Friday 29 September 2023
Claudia Paris is an assistant professor from the Natural Resources Department of the ITC Faculty who was recently voted by ITC students as Teacher of the Year 2021/2022. This recognition from students comes from her teaching approach, connecting with students on a personal level and encouraging their autonomy while offering constant support.
A couple weeks after receiving this prize, Claudia travelled to Pasadena, U.S. to receive at the International Geoscience and Remote Sensing Symposium (IGARSS) conference the "2022 Letters Prize Paper Award" from the IEEE Geoscience and Remote Sensing Society (GRSS). This award is given to recognize the authors who have published in the IEEE Geoscience and Remote Sensing Letters during the calendar year an exceptional paper in terms of content and impact on the GRS-Society. Today we talk with Claudia to discuss how she received these awards that acknowledge her excellent work as a teacher of the NRM2 course "From Data to Geo-information for Natural Resources Management" and as a researcher. 
Congratulations on the awards Claudia! How do you feel about receiving the Teacher of the Year award?
To be honest, it is amazing because you have the feeling that you have an impact on people. And that is exactly our mission as teachers. I think we have to get in touch with students, not just teach. But I didn't expect this award at all, it was a real surprise because this was my second year teaching at the ITC Faculty and my first year as course coordinator. Fortunately, my colleagues were very supportive during the whole course. I would like to give very special thanks to Raymond, Willem, Tiejun, Micky and Petra for helping me on this adventure.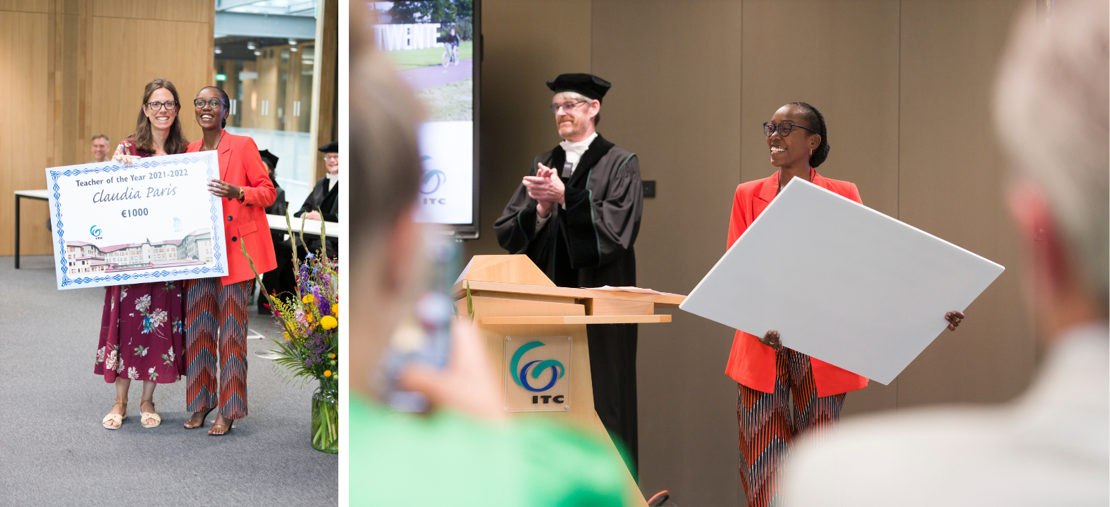 The award was given during the Graduation Ceremony
What was the name of the course you were teaching to the students who voted you Teacher of the Year?
It's "From Data to Geo-information for Natural Resources Management" or NRM2, the second specialization course of the M-GEO Master Programme offered by the NRS department. During this course, students were required to design and develop a prototype processing chain based on Earth Observation (EO) and Geographic Information System (GIS) data to support planning and decision-making processes in Natural Resource Management (NRM) situations. It was a very practical course in which the students developed their prototype in Google Earth Engine (GEE) . They did a great job pushing their limits to learn the basics of coding in JavaScript.
For this course, we adopted a hybrid approach that was very appreciated by students. At the end of the course, I asked them for feedback, and they told me that they enjoyed the feeling of working alone while being supported. Also, in the last week of the course, I gave them the freedom to fully concentrate on their project, while being supported by dedicated online and face-to-face sessions where they could ask questions.
Would you say that this combination of hybrid flexibility and support is the teaching approach that students value?
At the end of the feedback session, that was one of the points I wanted to discuss with them. I tried to spend time with them during the face-to-face weeks, sharing my experience with them, but also letting them have their own space to learn and make mistakes.
One of the goals of the course was to show them real-world problems. In my career as a researcher, I have had the opportunity to work on several European Space Agency (ESA) and HORIZON European projects, where many of the challenges presented in the course (e.g. EO and GIS data selection and preparation) have to be addressed (e.g., dataset preparation, data preprocessing). According to my research experiences and my recent scientific publications, I designed a course that would provide students with an overview of the main challenges typically faced when working with geospatial data. For these reasons, I encouraged the students to work with the latest EO data currently used by scientists (e.g., Copernicus EO data).
I also tried to push them a bit outside of their comfort zone in coding, again trying to let them think this could be a real-life project. I guess this was also something that they appreciated because they could include these skills and experiences in their curriculum.
It sounds like a very practical course then. Was theory also part of the course?
Yes, the whole course was structured around real-world case studies, but we still included theory. In order to guide students in the development of a prototype data processing chain, every week was dedicated to the steps necessary to develop the prototype. For instance, in the first week, we focused on the conceptual design of the case study, to formulate the objectives, research questions, and expected challenges for the NRM problem under consideration. In the second week, they were collecting and preparing the necessary EO and GIS data. Every week there were lectures, tutorials and supervised exercises to have a good balance between theory and practical lessons.
With this real case study… did the students run into the same problems as a researcher?
Definitely, they faced one of the most common challenges when working with EO images: the lack of satellite data. The study area, located in Ghana, was inherited from the previous version of the course and has interesting NRM case studies associated with it. However, satellite data were not available in the past and cloud cover hindered the use of many images. In the beginning, I heard a lot of "Oh my God, there is no data. The study area is too cloudy!" But then I told them "Yes, this is our reality!". Theoretically, satellites are supposed to acquire an image every few days, but if there is a cloudy period then the number of images available to run your analysis is much lower. They were struggling during the course, but then they probably realized that they had a real experience to learn from.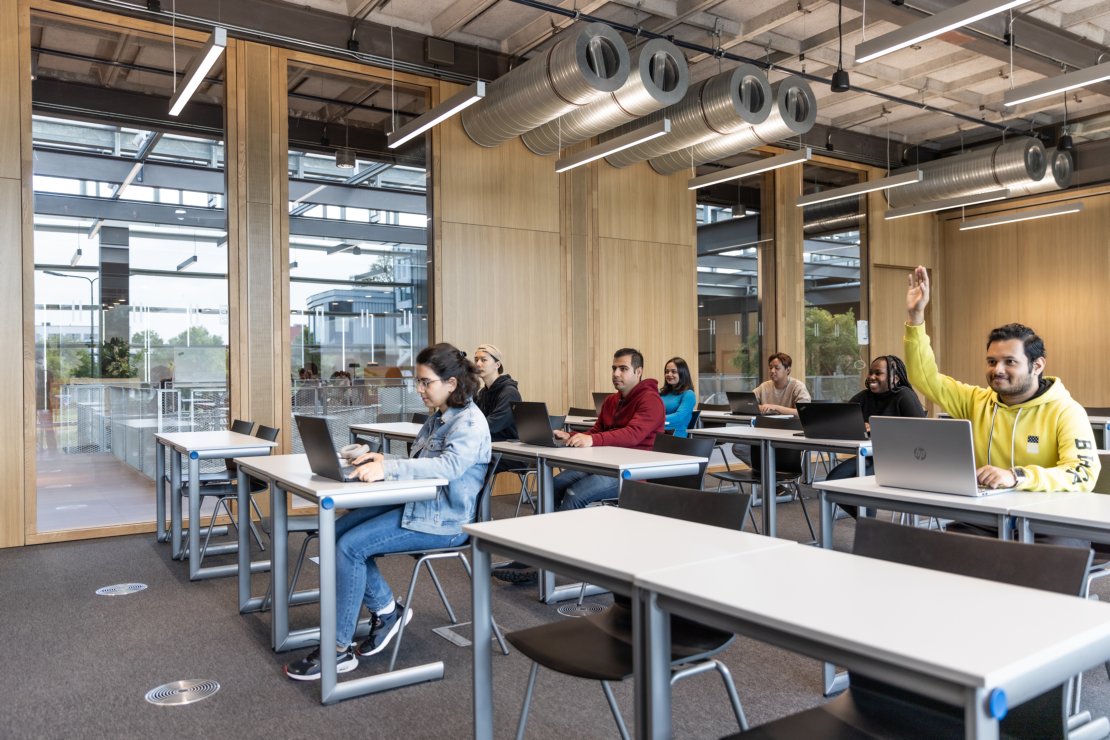 NRM2 is a practical-oriented course that encourages participation
Any tips that you could give to teachers who just started teaching?
I have to confess that the University Teaching Qualification (UTQ) courses helped me a lot. These are the courses offered by the UT to support the preparation of the UTQ portfolio. During one of these courses, I learned several activation strategies, which I used a lot during the classes. Normally, after 10-15 minutes the students' attention drops. With activation strategies, such as interacting with students, asking questions, writing down ideas and sharing them with the class…  students seem to be more engaged.
I also try to learn their names before the course starts. Before the first class, I asked for a sheet with their names and their faces to help me memorise their names. I am not good at remembering names, but I do my best to make everyone feel included. In the first class, it is also important to break the ice. I typically start asking them to introduce themselves with their names, where they come from, and one of their favourite hobbies. In this way we get to know each other: we are people, we are not just coming here to study or work. Of course, I do that too. I am the first to break the ice and share my favourite hobbies.
When it comes to a lesson and I explain a problem, I try to make the students think about the solution before talking about it. When I was a student, I liked to think about an answer and not have it given to me straight away. That way I could see if I was wrong, if I was correct, if my thinking was in the right or wrong direction…
You talked about your preference for including hybrid education in your teaching approach. How do you foresee the future of education in that sense?
At some phases of the NRM2 course, the students had to choose between being physically at the Faculty or attending the lectures online. I encouraged them to come and work together because they had to face similar challenges. However, I saw that most of them prefer to work from their homes, at the ITC Hotel. I have the feeling that they need their own space, their own concentration, their own comfort zone.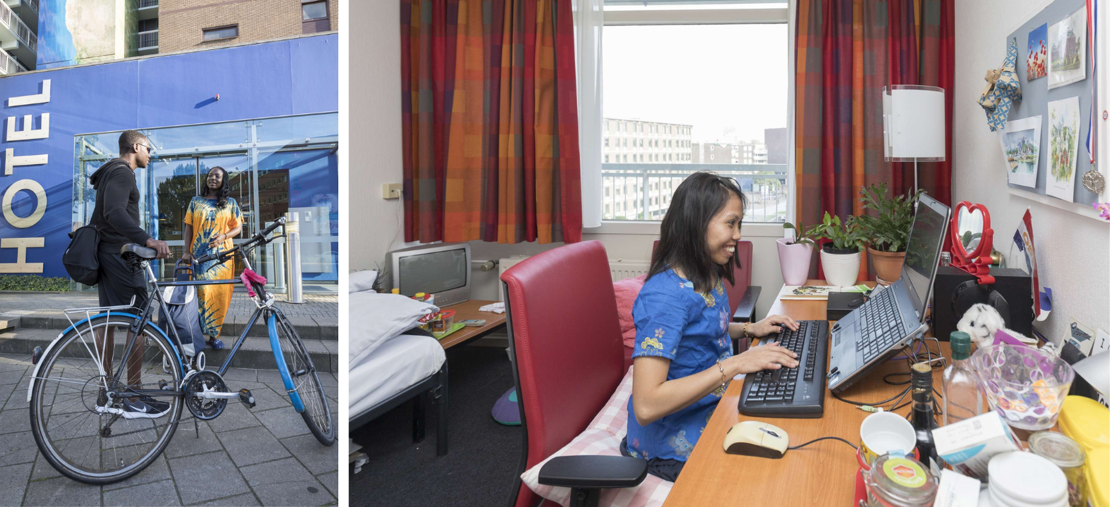 ITC Students have guaranteed accommodation at the ITC Hotel, located in the city centre of Enschede
Hybrid education could be the future of education. It is more comfortable sometimes. Some days students feel sick, tired, or maybe they just want to have lunch at home. It's nice not obliged to be physically present every day. However, I think it requires extra organization and students should always know in advance where they can find the teachers and the study materials.
How do these study materials link to your research?
I have been working a lot on projects and publications about land cover mapping based on satellite data. Our students had to conduct similar research in a small study area, focused on a specific NRS challenge. To find a solution to the problem, they had to go through fairly common steps when working with satellite data, such as preparing the geospatial data, defining the workflow, and some sort of basic classification or change detection method.
These are the basics they need if they want to use EO and GIS data to do geospatial analysis to support deforestation, soil fertility, agricultural analysis changes... they need to go through this same process. And these are also the common challenges that I have to face in my research.
And a few weeks after the Teacher of the Year prize you were in Pasadena attending the IGARSS conference, where you received the "2022 Letters Prize Paper Award" from the IEEE GRSS. How was that experience?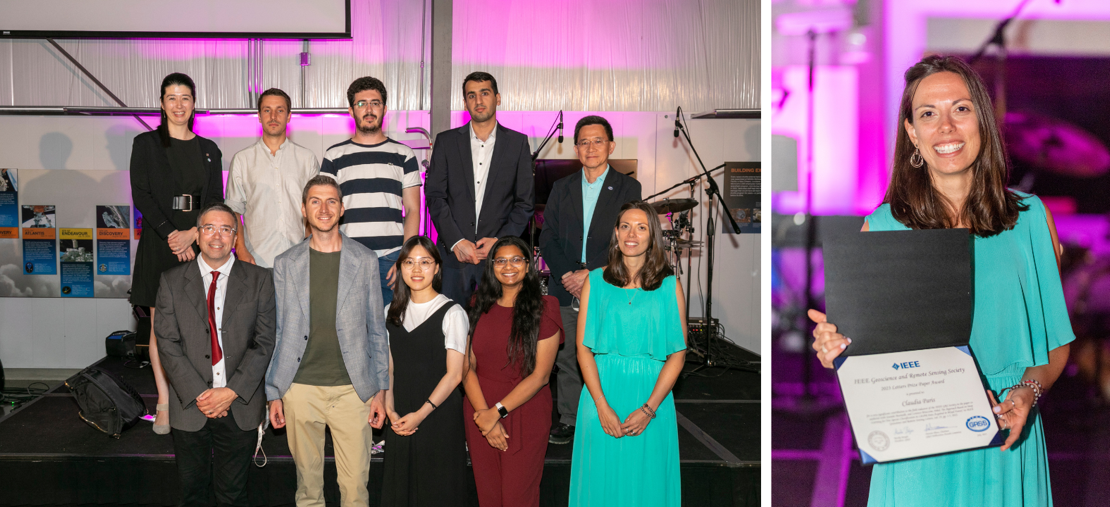 Claudia received the 2022 Letters Prize Paper Award from the IEEE GRSS at the IGARSS 2023 conference in Pasadena 
I was honoured to receive it as it is a very prestigious award.  Our work was considered a relevant contribution to the GRS Society. In our paper, we developed a deep-learning model to classify different tree species using Light Detection and Ranging (LiDAR) data, a sensor that can capture the three-dimensional structure of the trees. The novelty was the definition of a deep learning model tailored to the specific properties of LiDAR point clouds acquired over mixed forest. Many deep learning models already existed for optical images, but very few had been developed for three-dimensional point clouds acquired over forest areas when we made this publication. The idea was simple but effective.
Read here the IEEE Geoscience and Remote Sensing Society 2022 Letters Prize Paper Award: D. Marinelli, C. Paris, L. Bruzzone, "An Approach Based on Deep Learning for Tree Species Classification in LiDAR data acquired in Mixed Forest", IEEE Geoscience and Remote Sensing Letters, vol. 19, pp. 1-5, 2022, Art no. 7004305, doi: 10.1109/LGRS.2022.3181680