The European Notifiable Diseases Interactive Geovisualization (ENDIG) under development at ITC's GeoHealth group at the University of Twente aims to provide a user-friendly overview of the notifiable disease surveillance systems that have been established in the EU member countries
Disease surveillance systems are an important part of the backbone infrastructure enabling the national and international monitoring of infectious diseases. Healthcare providers and laboratories use these systems to report detected cases of notifiable diseases to the national health surveillance agencies, who gather the data and make it available to the health authorities. At the continental level, the members of the European Union have agreed upon a list of infectious diseases of joint concern that should further be reported to the European Centre for Disease Prevention and Control (ECDC). For this, existing national disease surveillance systems may need to be adopted or new systems put in place. The state of implementation varies across diseases and countries.
To visualize the current state and past developments, ENDIG builds upon data on European disease surveillance systems published by the ECDC every year. After choosing a disease of interest, users can access a series of maps that illustrate qualitative aspects of European disease surveillance systems. A temporal view allows for quick assessment of the yearly developments since 2015. The application provides convenient and easy access to information that may otherwise be in a spreadsheet.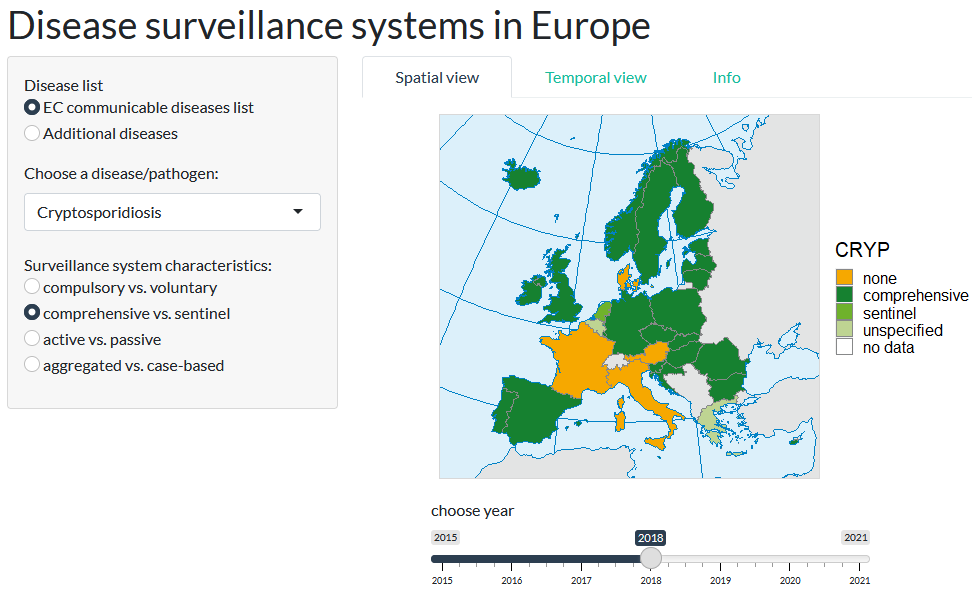 Researchers working on ENDIG