Welcome to the GeoHealth Hour.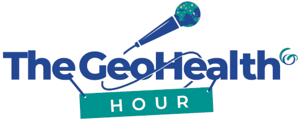 The GeoHealth Hour is a monthly talk series all about spatial approaches to health topics. From simple maps you could draw with a pen to simulations and spatio-temporal analyses running on high-performance clusters, geoinformation often plays a crucial role in understanding and managing threats to human and animal health. With this talk series, we want to showcase the wide variety of topics and techniques, people and projects that make up Geo-Health. Seeing Geo-Health as a melting pot of different disciplines, viewpoints, and cultures, we want to stimulate discussion, facilitate exchange and encourage collaborations.
The talks are usually held online on the third Monday of each month at 13:00 CET/CEST, with some flexibility for speakers from different time zones.
Speakers wanted!
If you work somehwere at the intersection of health and geo and have something interesting to share, please consider the GeoHealth Hour as an opportunity to present your work in a friendly environment. We always have an open slot available somewhere. Early career researchers are welcome, get in touch with Nils for more information!
Stay informed
Future talks are listed here as soon as all details have been fixed. If you would like to receive a notification about upcoming talks, please subscribe to our newsletter. We promise we'll do our best to keep it low traffic and you can unsubscribe at any time by entering your address again here.
.
ContaCT
The GeoHealth Hour is being organized by members of the Geo-Health group at the ITC. You can reach us at geohealth-hour-itc@utwente.nl.