Thursday 14 July 2022
In the Netherlands, it's common sense that when you own a property, you also have the land rights to prove that you do. In Colombia, people live in a different reality – especially in rural areas. That's why ITC researchers, together with the Dutch Kadaster and ROC van Twente are working with the Colombian Distrital University. The aim of this NUFFIC-funded and large institutional collaboration project is to enhance land administration processes to support peacebuilding and rural economic development. At the end of June 2022, 13 visitors from Colombia came to Enschede.
Dr. Luz Angela Rocha Salamanca is the Colombian coordinator of the project. Luz Angela finished her Master in Geoinformation Systems at ITC in 1997. 'My education at ITC has been key for the development of this project. I acquired knowledge about GIS and remote sensing technology and learned how these tools can be used for stakeholder coordination, in the context of land administration processes' says Luz Angela.
About the land for peace project
With the Land for Peace project, researchers from ITC helped the staff of the Distrital University to enhance their knowledge in the context of Land Administration Colombian people in rural areas receive land rights they are entitled to. 'In the last two years, a lot of work has been done to update the curriculums of both the BSc program and the technical program at the Distrital University in Bogotá. Since then, the proposed methodology has been recognized by other academic programs. A great deal of emphasis was placed on training courses for our teachers to acquire the knowledge required to update the curriculum and generate a research agenda. This research agenda really focuses on the needs of our country Colombia.'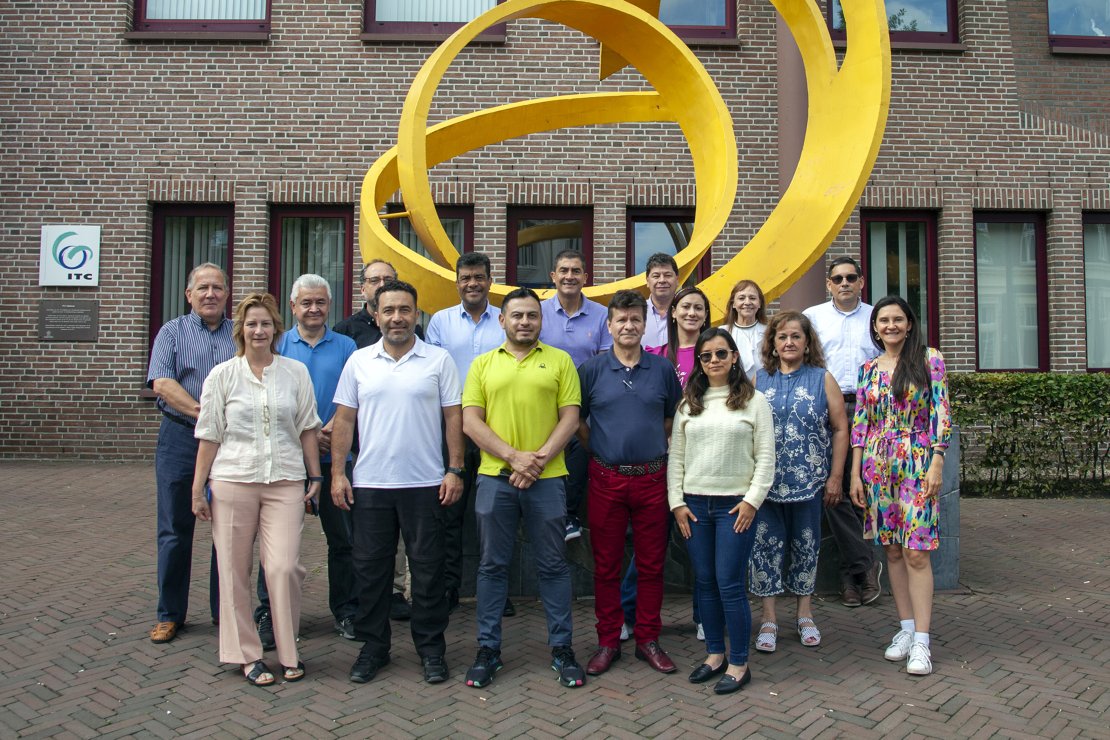 "An inspiring trip"
'As a group traveling to the Netherlands, we were inspired to see different types of education during our trip. It is always enriching to acquire new knowledge and share experiences as a group.' Next to ITC, the 13 visitors from Colombia paid a working visit to ROC van Twente and Kadaster international. 'The trip allowed me to understand even more how mapping and cadastre processes are carried out today using new technology, as well as the importance of different types of data in all these processes. Much of this can be applied in the Colombian context, with some adjustments. I am thankful that I saw, with my own eyes, the work that is done in the Netherlands.'
More information
If you are interested in this collaboration between ITC, Kadaster, ROC van Twente and Colombia, please get in touch with Javier Morales. If you want to learn more about the possibilities of the Tailor-Made Training programmes that ITC offers, please contact Lyande Eelderink.