Learn how to acquire reliable UAV data and efficiently process them to extract useful information for precision agriculture or FOR RURAL SURFACE water CONTROL
The use of Unmanned Aerial Vehicles (UAVs) or drones has surged in the last two decades, leading to remarkable changes in several remote sensing applications. However, the development of best practices for high-quality UAV mapping is often overlooked, representing a drawback for their adoption in different domains. UAV solutions then require an interdisciplinary approach, integrating different expertise and combining several hardware and software components on the same platform.
This course aims to deliver theoretical and hands-on knowledge to acquire, process and interpret UAV data. The course addresses two specific and alternative application domains: precision agriculture and mapping applied to the water control in rural flood-affected areas.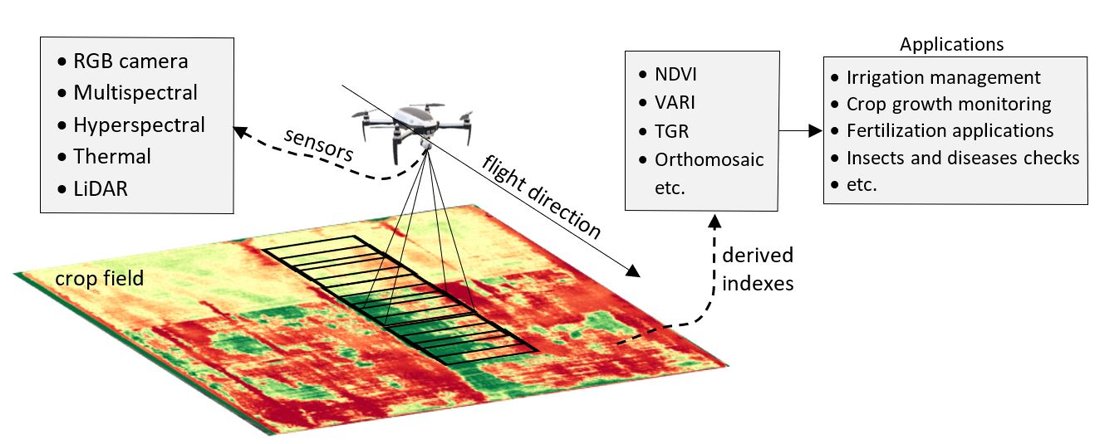 Figure 1: A visualization of the use of UAVs in smart agriculture.
For whom
Are you working with UAVs or interested in this technology and want to learn more about using UAV technology for precision agriculture or the production of maps suitable for flood control modelling? This course will give you the needed knowledge to do that!
Our course on "Precision Agriculture with UAVs" is designed for Bachelor, Master, and PhD students who are eager to specialize in the acquisition and processing of UAV data in the topic of agriculture. Whether you aspire to delve into the academic requirements of agricultural applications or aim to write your MSc thesis on UAVs in agriculture, this course will equip you with the essential knowledge and skills.
Our course on "Mapping Applied to the Water Control with UAVs " is designed for Bachelor, Master, and PhD students. Whether you have prior experience or not, our academic expert instructors will guide you through the essential concepts and techniques. The course emphasizes a hands-on approach, ensuring that you gain theoretical and practical skills that can be applied directly to rural flood management.
Course content
The course addresses two specific and alternative application domains: precision agriculture and water control. 
What will be achieved?
Read about the gained skills and knowledge after completion of the course.
Online learning, what is it like
Study material will be available for offline study (eg prerecorded lectures, assignments with video instructions), and for the best learning experience, we include dedicated moments in which we meet, discuss and learn online. In addition, since the course runs parallel to the in-class course at ITC, you can attend in-class lectures (if organised) via a live stream and interact with online and in-class students to share practical and fieldwork experiences in dedicated feedback sessions.
The course has been designed for ten weeks and is composed of
prerecorded practical and assignments (with video instructions)
reading material and self-study
online feedback sessions and discussions.
The online activities will be recorded and available for offline study (recap). For some practicals and assignments it is possible to perform adaptive fieldwork yourself, following the instructions provided in the course, and receive feedback from the tutors. Problems with downloading large files? No worries; we will deliver the transcript of the recordings.
Study load
The study load of the entire 10-week course is 5EC. You need to spend a minimum of 12-14 hours per week on the course. The course ends with an assignment with a study load of 12 hours.
About your diploma
Upon successful completion of this course, a Certificate will be awarded to those who have attended the course and fulfilled the exercise requirements. The Certificate will include the name of the course and serve as a testament to your dedication and accomplishments.  
Additionally, you will receive a Course Record detailing the subjects studied, course code, exam date, and the mark awarded. These documents will confirm your achievements and serve as valuable credentials for your professional development.
Admission requirements
The course is intended for BSc and MSc students and PhD candidates who want to learn about using UAVs for precision agriculture or water management applications.
There are no specific admission requirements. Basic knowledge of imagery and using UAVs are positive elements of attending this course.
Technical requirements for online education and assessment
You will receive the needed software licenses. 
For online education, we formulated guidelines to guarantee optimal performance. The webcam and headset requirements must be met for online oral exams and proctoring during online assessments.
Key information