Monday 13 09:00 - Thursday 16 November 2023 17:00
The 16th International Symposium on Geospatial Health will be hosted by the University of Twente in the week of 13 to 16 November 2023. The International Society of Geospatial Health (GnosisGIS) is a small but active international network that aims to advance research in human and veterinary geo-health applications and promote scientific exchange.
GnosisGIS has a well-established track record in organizing an annual symposium going back as far as the year 2000. The 2023 symposium will again be an exciting, affordable, two-day in-person event that brings together researchers and health professionals from different disciplines, from across the Globe, to share the latest advances in geospatial health research. The symposium is designed as a F2F event but will also facilitate remote contributions.
The leading title of GnosisGIS 2023 'Interdisciplinary Geospatial Research for Planetary Health' aims to expand horizons, strengthen communication, and improve interdisciplinary collaboration and research.  Subthemes include (1) roles and examples of Geoinformation Science in informing Planetary Health, (2) Planetary Health and Geo-AI, (3) climate change induced health risks. Further subthemes might be gradually developed.
The meeting takes on the challenge of exploring subjects such as new data sources, emerging technologies, data-driven approaches, spatio-temporal methods, and impacts of climate change, human activities, and animal interaction on human and veterinary health. To build on the ongoing efforts to create an interfaculty network of health researchers at the University of Twente (UT), the 16th Geospatial Health symposium will be organized in collaboration with UT  colleagues from various faculties and research groups. Qualifying paper submissions will be published in a special issue of our peer reviewed journal Geospatial Health.
Tentative symposium structure
GnosisGIS 2023 will present a non-standard, interactive symposium format, that will combine pre-symposium technical workshops, keynote presentations, panel discussions, scientific sessions, poster presentations, a student-led event, and a visit to ITC's advanced Geo-Science Laboratories (Geospatial Computing Platform, VISUSE, theDISC, UAV centre, Geonetcast). One panel session will focus on the need and a possible approach towards developing an ontology[2] for Geospatial Health. The second panel session will focus on perspectives and pitfalls of further developing the scientific domain of Geospatial Health. We have scheduled a match-making session for joint research proposal writing on Thursday morning for those interested. Those with an interest in developing an ontology for Geospatial Health can also spend time together then. A tentative symposium structure is presented in the figure below.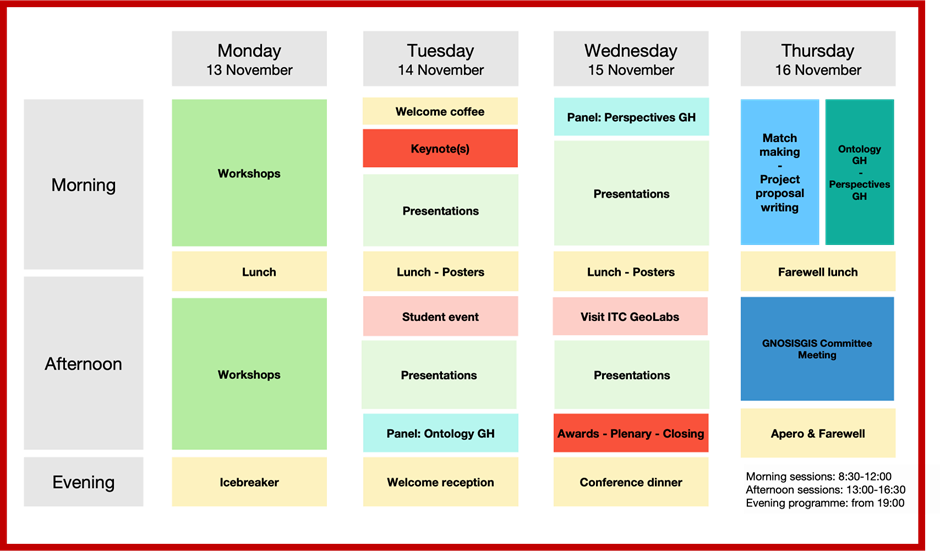 More information
Further details coming soon. Keep an eye on our website which will gradually be filled with more information and/or join our mailing list and never miss an update. Please reach out to Sherif Amer (Chair International Society of Geospatial Health) for any questions.