Sunday 10 - Thursday 14 May 2020
FIG WORKING WEEK IS THE MAIN EVENT OF THE YEAR FOR ALL TEN FIG TECHNICAL COMMISSIONS, NETWORKS, TASK FORCES AND PERMANENT INSTITUTIONS.
The main objective of the FIG Working Week is to bring together experts from academia, governments/public administration and industry to report on recent developments, trends and research results. Technical session speakers will present their research selected through the open call for papers procedure. This is an exceptional platform for industry practitioners, innovators, scientists, researchers, academics and students to discuss current research which is shaping a new world society.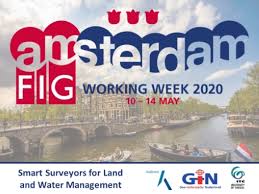 The FIG Working Week 2020 will be held in Amsterdam. At the 2016 edition, which was held in Christchurch (New Zealand), the Netherlands was voted as host country for the international event. The bid book is a joint initiative of Dutch organizations in the field of surveying (Geo-Informatie Nederland, Kadaster, GIM International and ITC/University of Twente).
This edition of the event is addressing the overall theme 'Smart Surveyors for Land and Water Management', which is built up by the following sub-themes:
1. Smart Surveyors
Rapid urban growth, smart energy, cleaner mobility, and 'land rights for all' are some of the challenges demanding innovative surveying approaches and technologies. Sensing technologies, spatial data processing technologies and related approaches are already available. Use and improve them to become future proof, Smart Surveyors!
2. Integrated Land and Water management
Without integrated land and water management, the Netherlands as also other coastal countries cannot sustain its agricultural and urban development. Climate change, though, increases the risks of sea and riverine floods and extended drought periods and complicates this management task. Unorthodox measures are called for. Get familiar with these measures and discuss them from your critical surveyor perspective.
3. Ten years to go to achieve the Sustainable Development Goals
The countdown begins, only one decade to go to accomplish the Sustainable Development Goals. The SDGs are the blueprint to achieve a better and more sustainable future for all and surveying professionals have a key role to play. How did we, as surveyors, contribute to ending poverty, improve health and education, reduce inequality, and spur economic growth – all while tackling climate change and working to preserve our oceans and forests? In addition, what will be our role for the coming 10 years?
You can now register and find more information about the event on the following link: http://fig.net/fig2020/registration.htm