Thursday 27 July 2023
ITC's Centre for Disaster Resilience (CDR) 'SIREN' project proposal has been selected as one of the top ten project proposals from over 200 project submissions for the Munich Best Project Proposals 2023 on climate resilience and early warning.
The SIREN project aims at enhancing and scaling up a community-based flood early warning system in Durban, South Africa by integrating remote sensing, near real-time modelling, climate scenarios and local co-produced knowledge aiming to create safer communities.
SIREN stands for Spatial data and local knowledge: Integrating large scale Remote sensing and local scale community-based approaches for a more effective flood Early warning systems and Networks.
The proposal was supported by Durban's Climate Change Strategy and Transformative Riverine Management Programme, in collaboration with the Municipality, universities, civil society, and informal settlements.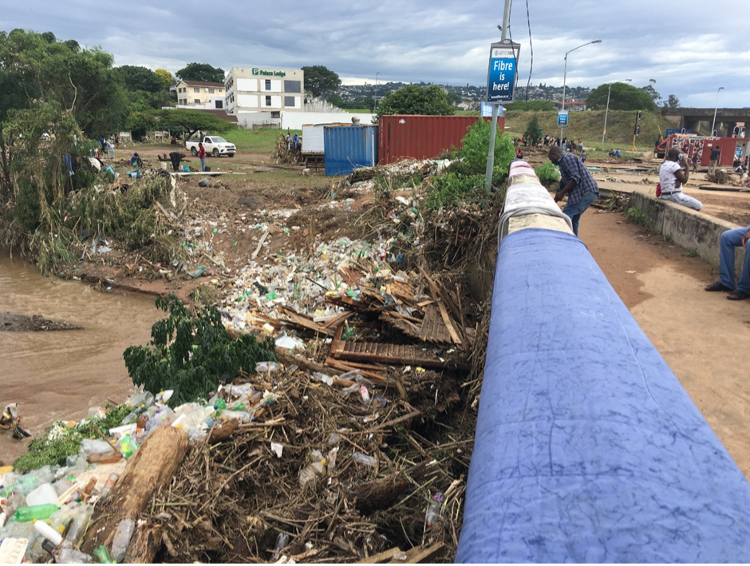 A blocked bridge in the April 2022 floods in the Quarry Road West informal settlement in Durban.
The RISK Award is awarded every two years to help improve risk reduction and disaster management by providing financial support to projects dedicated to this topic.
Find out more about the SIREN project proposal HERE and see the CDR's website for more info about disaster resilience within the ITC.
Project contact: Associate Professor Irene Manzella (i.manzella@utwente.nl)