Friday 10 June 2022
The INGENIOUS 1st International Workshop on "Tools for the First Responder of the Future" and the 1st Full Scale Exercise (1st FSX) took place in Villejust (France) in May 2022. There were demonstrations of advanced technologies for First Responders and constructive discussions among experts in the field of Crisis Management and Security. The events attracted around 90 participants from Europe and worldwide.
During the hybrid workshop, speakers from industry and First Responder Agencies, both internal and external of the INGENIOUS consortium, as well as key experts from other European projects presented the latest technologies developed for First Responders. The various smart sensors, systems and Augmented Reality technologies of which the INGENIOUS Next Generation Integrated Toolkit (NGIT) is composed, were demonstrated by the INGENIOUS technical partners, while the end-users of the project highlighted the importance of having access to the appropriate technologies so that they can work safely and effectively in the field. Read more in this news article. 
Smart devices in the air and on the ground
ITC is a partner in the INGENIOUS consortium and gave a presentation during the workshop called 'Smart devices in the air and on the ground'.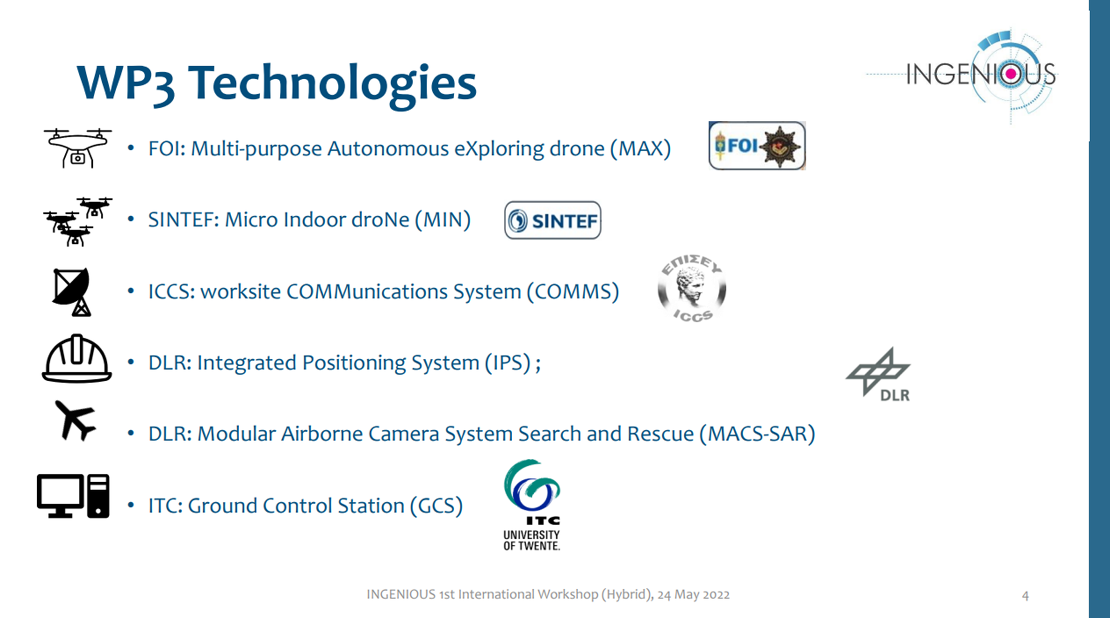 About INGENIOUS
INGENIOUS is a 42-month project funded by the European Union and the Republic of Korea under the Horizon 2020 Research and Innovation Programme. This research initiative develops an integrated, reliable and cost-effective technology solution that ensures a high level of protection and augmented operational capacity, assisting the First Responders in saving more lives with less risk. Learn more on the INGENIOUS website.