Thursday 4 November 2021
ITC presented Rosa the award for her outstanding scientific publication on the Open Geospatial Interactive Tool to support collaborative spatial planning with a map table. Her study has many practical applications for improving citizen science projects that support collaborative planning between multiple stakeholders both on the ground and remotely. The award that Aguilar received, which is provided by the ITC Foundation, is accompanied by a cheque of €1000.
Rosa received her award from Dean Prof. dr. Freek van der Meer, last Friday October 29 during the ITC 70 years celebration. The jury praised the practical and scientific relevance of her work. "This is a well-written paper, with excellent tables and graphics with a clear link between the objectives of the study, methods, results, and conclusion. This study moves participatory mapping and planning to new heights. For example, OGITO supports intuitive or friendly gesture and touch screen functionalities such as touching and pinching and is implemented on a web platform, thereby allowing remote and hybrid usage, highly relevant in the COVID-19 era."


COLLABORATIVE SPATIAL PLANNING WITH A MAP TABLE
Aguilar's paper focuses on the use of map tables with spatial content. It is about an innovative tool that enables collaborative spatial planning in a co-located manner. The open-source map table tool, OGITO, was co-designed with users and stakeholders using human-centred and Agile software development principles. The tool was tested in two villages in Indonesia.

ABOUT ROSA AGUILAR
Rosa Aguilar holds two MSc, in Computer Science (Venezuela) and Geo-Informatics (The Netherlands); she aims to defend her PhD thesis next year. Aguilar plans to continue supporting the development of OGITO in addition to her new activities in her new position as GEO-ICT expert in the GIP department at ITC.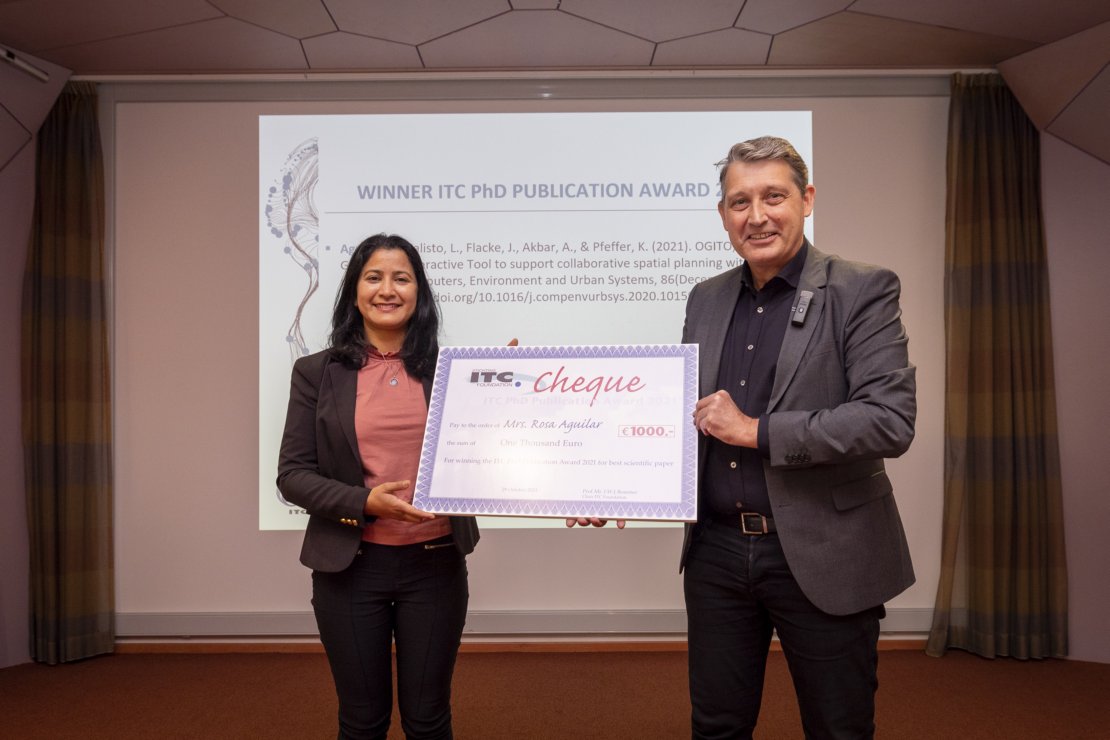 ABOUT THE AWARD
The ITC PhD Publication award is an annual prize presented to a PhD student being the first author of an outstanding scientific publication. The prize consists out of an award certificate and €1000. A jury evaluates the nominated publications based on the criteria of presentation, innovation, scientific rigour, practical/scientific relevance and "interesting to read".
Article awarded: Aguilar, R., Calisto, L., Flacke, J., Akbar, A., & Pfeffer, K. (2021). OGITO, an Open Geospatial Interactive Tool to support collaborative spatial planning with a maptable. Computers, Environment and Urban Systems, 86(December 2020), 101591. https://doi.org/10.1016/j.compenvurbsys.2020.101591