Tuesday 24 September 2019
Menno-Jan Kraak: Four years President of the International Cartographic Association
The International Cartographic Association (ICA), founded in 1959, has as its aim to promote the discipline of Cartography internationally. It offers its expertise and knowledge of technological developments to other organizations via events, meetings workshops, and publications. Its activities happen through the work of its Commissions and Working Groups, that deal with a wide range of topics that cover nearly the whole discipline. Highlights are its bi-annual conferences, with the most recent in Rio de Janeiro (2015), Washington DC (2017), and Tokyo (2019). At each event over a thousand cartographers from all over the world gather to exchange knowledge.
In 2015 I was elected as President of the International Cartographic Association for a period of four years. As President I was active both inside and outside ICA to foster our mission. The map on the next page summarizes these activities. I visited 32 different countries, most of them members of ICA. These travels are split in several categories.
ICA internal activities. These include the Executive Committee board meetings, the participation in bi-annual conferences and in events of our Commission.  The thematically oriented Commissions do the actual work. People with similar interests meet and for instance work on joint publications or set the research agenda.
ICA national members. Participation in cartographic activities of national members.
United Nations Global Geographical Information Management (UN-GGIM). Participation activities.  Currently, ICA holds the chair of the UN-GGIM Geospatial Societies, which makes me an active member of the Expanded Bureau of the UN-GGIM
International Science Council (ISC). Our membership of the International Science Council (before ICSU) gets ICA involved in the ISC-GeoUnions.
The focal point of my presidency was to support the United Nations in their effort to reach the Sustainable Development Goals. We asked ourselves: "How can ICA help realize the United Nations' 2030 agenda for sustainable development? How can we, cartographers, be relevant to society in helping to reach these targets?"  This resulted in a poster exhibition at the United Nations Headquarters in New York in 2017, and currently we work on a book to be published at the end of this year with the UN.
Meeting interesting people is also part of the job. The opening of the Tokyo conference was done by the Imperial Highnesses Prince and Princess Akishino. The princess was highly interested in cartography due to her background.  She even decided to participate  - of the record - in our orienteering event in one of Tokyo's city parks. Orienteering is running with a map trying to find a trail hidden marker as quick as possible.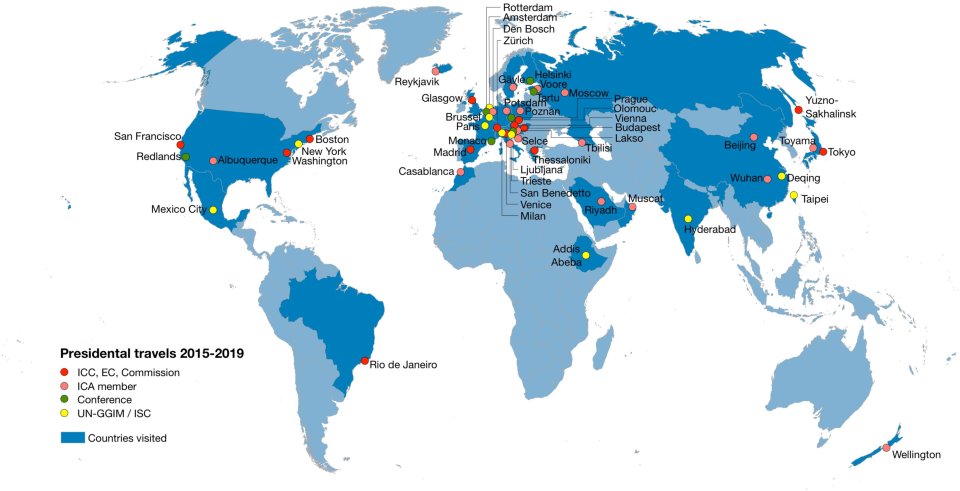 On Tuesday 24 September 2019, Dr. Menno-Jan Kraak (professor of cartography) will show his atlas collection and talk about it during 'Studium Generale': Across Borders / Over Grenzen (in Dutch only)
In our world there are different kinds of borders. There are very natural ones, such as mountain ridges, seas and rivers. But also very artificial ones: think of the perfectly straight borders in Africa or at the Iron Curtain. Do borders contribute to peace or do they provoke conflicts?
How much power and politics is actually hidden behind the mapping of areas? Prof. Dr. Menno-Jan Kraak is Professor of Cartography (UT) and an atlas collector, will show maps from his collection. Kraak is President of the International Cartographic Association. This lecture takes place within the framework of the National Peace Week, of which the theme of this year is: "Peace unites. Across borders."
Where: Enschede, Campus UT, Vrijhof, Amphitheater.
Date: 24 Sep 2019
Start: 19:30 End: 21:00
Admission: free
Please note that the lecture will be in Dutch.