Tuesday 3 December 2019
AfricaGIS is the largest Geospatial, Science and Technology conference on the African Continent. The conference is held every two years and is organised by EIS-Africa, a pan African non-profit organisation. The AfricaGIS Conference and Exhibition series have become a flagship Geospatial Information marketplace in Africa.
For the past twenty years, the series have contributed immensely to the development of skills and institutional capacity in geoinformation across the continent. The Conference explored the role of innovations in geospatial information and its implication in addressing the 17 targets of the Sustainable Development Goals for an inclusive, prosperous and sustainable African continent. 
AfricaGIS 2019 was hosted by the University of Rwanda and supported by UNECA, UNGGIM Africa, GMES in Africa, GEO and Digital Earth Africa. ITC was present at AfricaGIS with a booth, promoting ITC's education, research and capacity development activities. A second reason to participate in the AfricaGIS event is for ITC's responsibility to develop a capacity development strategy for the Digital Earth Africa project: AfricaGIS provided an excellent opportunity to meet with relevant stakeholders and understand their expectations.
Its4land project
Additionally, ITC is coordinator of the EC funded its4land project which has developed the so called land administration toolbox. The its4land land administration toolbox delivers a suite of land tenure recording tools and consulting services which respond to the Sub-Saharan Africa needs to rapidly map millions of unrecognised land rights. At AfricaGIS the tools are demonstrated in the its4land booth. Furthermore, a specific workshop is organized to train software engineers how they can tap into the open source tools to expand functionality. Finally, ITC has been requested to contribute to several panel discussions during the technical sessions.
ITC had a booth (next to the Its4Land booth) at the Conference exhibition. The booth was visited by a lot of people with a specific interest in study at and collaboration with ITC. Finally, ITC organized an ITC alumni event on the Thursday evening, which was attended by approximately 35 people, including project colleagues from its4land and Digital Earth Africa.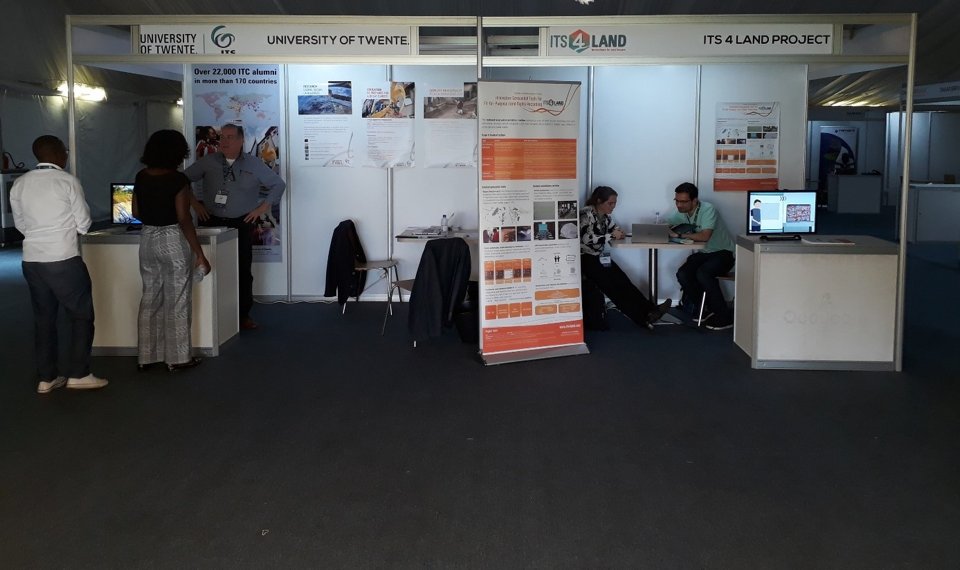 .