| | |
| --- | --- |
| Student: | Yifang Shi |
| Timeline: | October 2015 - 30 September 2019 |
Mapping tree species using hyperspectral and LiDAR data
Tree species information serves as fundamental data for sustainable forest management, ecosystem services assessment, as well as biodiversity monitoring. Accurately identifying individual tree species is of significance for scientific research and management purposes. Compared to the conventional field tree species investigation approaches, the technology of remote sensing offers a practical and economical means for mapping tree species. Combining airborne LiDAR and hyperspectral datasets, as a state-of-the-art remote sensing technology, provides both horizontal and vertical information about tree species and has shown great potential in improving tree species discrimination.
From an ecological and biological perspective, classification of individual tree species requires species-specific features, which can be morphological (e.g. tree height, tree branching pattern), physiological (e.g. photosynthesis rate), biochemical (e.g. leaf chlorophyll, leaf water content) or phenological (e.g. leaf phenology, flowering time) features. Due to fine spectral resolution, hyperspectral data are well-suited for classifying tree species in regions with high species diversity. Meanwhile, airborne LiDAR is a favoured data source for individual tree delineation, while also providing valuable geometric and radiometric information for tree species discrimination.
In this PhD research, the main focus is to exploit species-specific features including spectral signatures, vegetation indices, and plant functional traits from hyperspectral data as well as geometric and radiometric features from airborne LiDAR data for individual tree species mapping in natural forests. Radiative transfer models (RTMs) were used for plant functional traits retrieving and several machine learning methods were used for tree species classification. By discovering and employing species-specific biophysical and biochemical plant traits, the interpretability of both airborne hyperspectral and LiDAR data will be improved to serve the purpose of individual tree species mapping.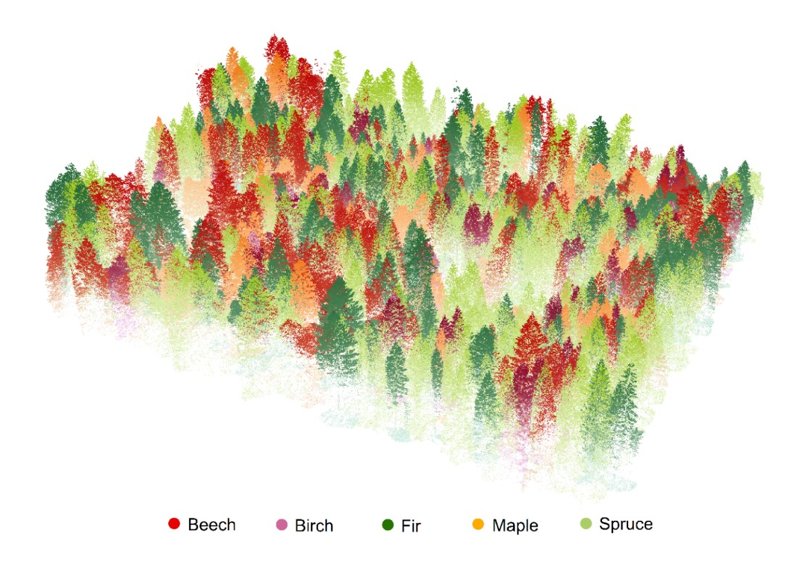 Fig. 1. Map of individual tree species classification using airborne hyperspectral and LiDAR data  in Bavarian Forest National Park, Germany.