| | |
| --- | --- |
| Student: | Vestine Uwiringiyimana |
| Timeline: | June 2014 - 11 June 2018 |
Stunting or impaired linear growth is still a significant public health problem in most of the developing countries. Stunting occurs when a child is not growing in length or height in accordance with his or her potential. Globally, 22% of children less than five years are stunted. In Africa, the East-Africa and the Middle Africa regions have the highest stunting levels, of 36.7% and 32.5% respectively. Rwanda particularly faces unacceptable levels of stunting with 38% of children less than five years stunted. According to the thresholds of stunting a population set by the World Health Organization, a prevalence of more than 30% is considered very high. Stunting is a significant problem affecting countries' economic and social productivity, mainly because of its effects during the first two years of life, are mostly irreversible during adulthood. Stunting affects severely cognitive development, health and adult economic development. Geographically, stunting prevalence varies spatially and temporally on a national and regional scale. Figure 1 shows the distribution of stunting per district in Rwanda in 2015.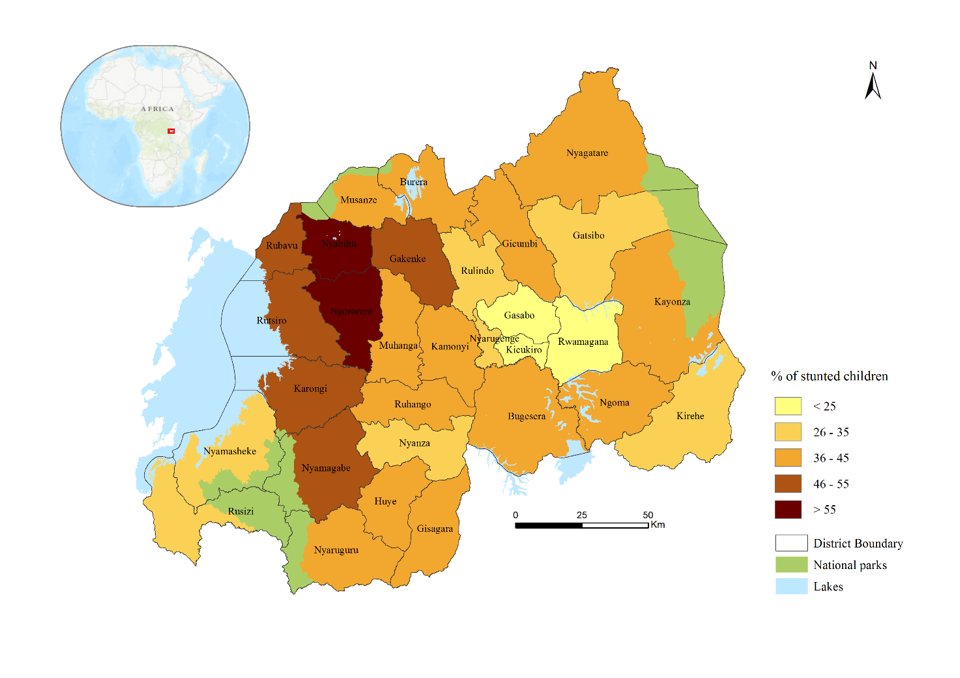 Figure 1. Stunting prevalence (%) per district in Rwanda in 2015 (based on DHS, 2015)
In this research, the different determinants of stunting in Rwanda are evaluated following the 2013 World Health Organization (WHO) conceptual framework (Stewart et al., 2013). The framework shows how stunting is a multifactorial problem, developing from causes such as poor household and family factors, inadequate complementary feeding, inadequate breastfeeding practices and infection. The proximal causes of stunting are on their turn embedded in contextual factors that are the community and societal factors; all of which need to be adequately addressed to see lasting improvement in the stunting problem.
Although the Rwandan government has implemented different strategies to tackle the problem of chronic malnutrition, in some districts, the high level of stunting and its spatial variation remains unexplained. By analysing the current stunting situation in Rwanda, different research gaps are identified. On the one hand, most of the existing evidence comes from national surveys, done either by the government or government partners. Thus, there is a substantial need for localised and independent case-studies to fill in the research gap, understand the drivers of stunting at a local level and also on the national. On the other hand, among the determinants of stunting, we identified two main factors that have not yet been researched on in Rwanda yet the evidence shows that they influence the outcome of stunting in a population. These factors are dietary zinc intake and mycotoxins exposure in children with less than two years. Researching on these factors and the impact that the environment has on them, we believe will shed light on unexplained stunting levels in Rwanda. Environmental factors will be considered because of their known influence on food availability, dietary quality and safety. Also, the examination of the stunting spatial pattern will be conducted on a national level, to understand its drivers and determine the extent of the unexplainable variance of stunting.
The conceptual framework of this research adapted from the WHO framework on stunting is summarised in figure 2. Environmental factors, together with household factors, are at the base of the framework as contextual factors associated with stunting. From contextual factors, there are proximal factors grouped under the child and maternal factors, and the complementary feeding practices. The usual child and maternal factors, known to be drivers of stunting, are taken into account to study the influence of poor complementary diet quality in terms of inadequate dietary zinc intake and consumption of unsafe foods that lead to mycotoxins exposure.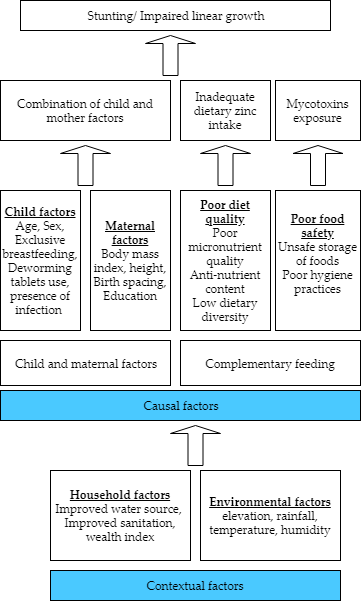 Figure 2. Conceptual framework of the PhD research
Therefore, the overall aim of this research is to examine the spatial pattern of stunting in Rwanda by studying its determinants on a local and national scale through the examination of dietary intake, mycotoxins exposure and the overall effect of spatially explicit environmental factors. Specifically, the objectives of the research are: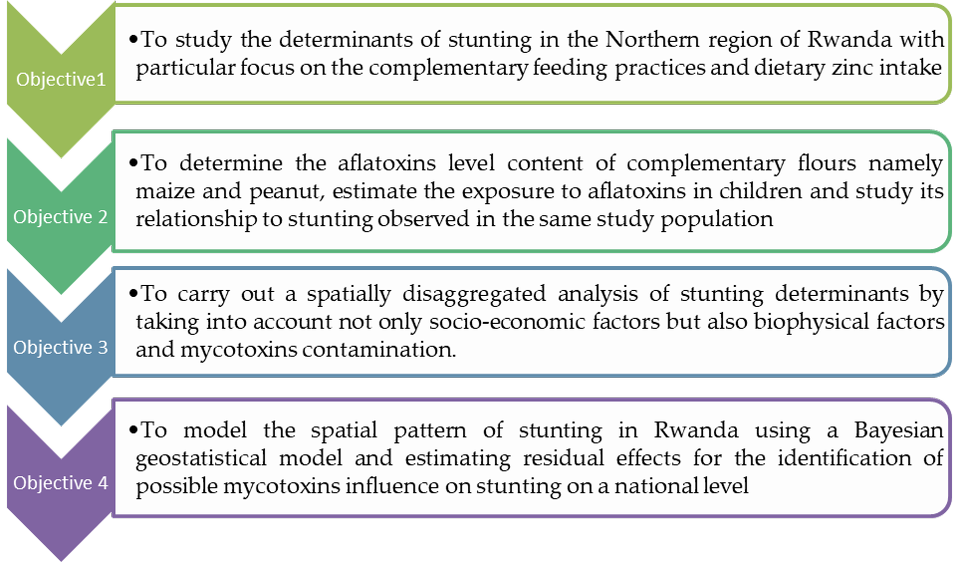 This research addresses stunting problem not only through the nutrition lenses but also through geographical lenses, thus the use of geographic information system. We believe that bringing together these two fields will result in more understanding of the stunting problem the Rwandan society faces and thus result in better-informed policy recommendations.