Monday 31 August 2020
Today, due to Covid-19, the opening of the University of Twente's Academic Year 2020-2021 was held differently than usual. This time it was not a physical meeting, but rather a digital tour of the campus - the Opening Academic Year (OAY) on UTour. This afternoon, in a 'TV broadcast' via the UT YouTube channel, staff and students watched how presenter Lieven Scheire and three student presenters interviewed various prominent UT staff members in beautiful and recognisable locations on campus. The Dutch band Jack & the Weatherman provided the music.
Every year, a regular part of the Opening Academic Year is the presentation of various prizes and this year's OAY on UTour was no exception.
Graduation Awards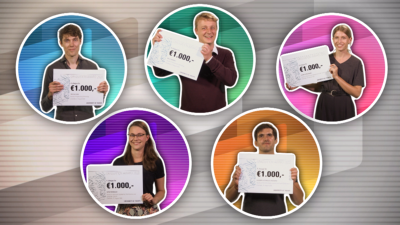 The Graduation Awards are presented each year to the five best Master's students. Tim Velthuis (ET), Kasimir Orlowski (ITC), Niels Mendel (TNW), Meike Berkhoff (EEMCS) and Laura Stegemann (BMS) each won a sum of €1,000 and a certificate for their excellent performance.
Tim Velthuis
Velthuis completed the master Industrial Design Engineering. Together with three partners he created a semi functional prototype for young autistic adults who experience anxieties. Unfold helps them to develop more independence in their daily lives. It is a dedicated solution and it incorporates both physical and digital aspects. Velthuis' design of Unfold also drew much attention on the Dutch Design Week 2019.
Kasimir Orlowski
Orlowski completed the master Geo-Information Science and Earth Observation with the specialization Natural Hazards, Risk and Engineering. His research deals with assessing the impact of soil parameters and land cover change on the chance of flash floods at a watershed level. The project took two directions that were combined at the end. First the spatial data sets were assessed. Second, the effects of land cover changes on flash flood behavior were analyzed. Finally, both spatial soil data and land cover change data were used in a novel way for hydrological modelling.
Niels Mendel
Mendel analyzed the physical mechanisms of converting the energy of rain drops falling onto a suitably functionalized surface into electricity. This drop-based energy harvesting concept has attracted widespread attention in the recent literature under the keyword 'nanogenerators' as a potential source of renewable energy. Niels Mendel completed the master Applied Physics.
Meike Berkhoff
Berkhoff completed the master Interaction Technology. Her research is one of the first studies that investigates the use of full-immersive VR for patients with dementia in care-homes. She followed a participatory design approach which 1) has led to the development of the guidance screen app 'VRWonder', 2) gives insights into measuring  experiences with these patients, using physiological measurements, and 3) illustrated the potential for using VR as a means to offer relaxation, reminiscence and a sense of self to people with dementia. Meike has not only left a great impression with her supervisors, but also with the care home facility that has enthusiastically taken her research results into practice.
Laura Stegemann
In her research Laura Stegemann looks for reasons in subjective imaginaries, about how a world without fossil fuels concretely looks like. During her stay in Colombia, she collected narratives through in-depth interviews and ethnographic research. Her analysis highlights how local transformative pathways are mediated by subjective perceptions about the present and future. Stegemann completed the master Public Administration.
VIDEO GRADUATION AWARDS 2020
Education Award For Serge lemay
During the OAY on UTour Serge Lemay was presented with the Education Award 2020 by co-presentor and Technical Medicine student Masu. Lemay, originally from Canada, teaches Signal Analysis at the Faculty of Science & Technology and he may call himself the best teacher of the University of Twente for a year.
This award includes a financial reward of 2500 euros. The jury from the Central Education Committee consists solely of students. Because of the Covid-19 situation the whole procedure went online.
Video Education Award 2020
 Watch the broadcast or separate items here.
Contactperson: Astrid de Graaf, a.degraaf@utwente.nl, 06-51724854