Introduction
We live in an age of abundant information, and the amount of information is increasing exponentially as the World becomes ever more connected via the Internet and ever more people are producing information. Information is highly synergistic: the more information one has, the more information one can generate.

The current information overload requires people to be information literate. Information literacy is the ability to recognize when information is needed and have the ability to locate, evaluate and use effectively the needed information. To be information literate, the consumer needs to know why, when, and how to use all the available tools and think critically about the information provided. Emphasis is on critical thinking and analysis about the information on offer. Information literacy is a "set of skills" that can be learned.
This set of skills includes a certain attitude toward learning and doing research itself. Information skills are the most important skill in lifelong learning for an educated worker in the modern information economy, especially including scientific workers.
During an ITC MSc programme, information skills are necessary to achieve the required level of research competence.
Information has become a vital resource for world economies and is certainly the basic component of any educational and research experience.
You won't become information literate overnight. Just as with speaking skills and writing skills, your abilities will improve over time as you gain expertise in the topics you choose to investigate and as you practice searching for, selecting, and evaluating the information and ideas you encounter. Information literacy skills will support effective research.
During the study time at ITC you will learn skills that
make you ready for employability
make you ready to cope with changes and that
make you ready for a lifelong learning situation
The right skills will encourage you to analyze, evaluate and synthesize ideas from literature so you can take the right decisions at the right moment, to write papers, policy documents, research papers etc.
So information Literacy is also about evaluating, conceptualizing, analyzing, synthesizing and applying information on one's own purposes.
As well as improving your existing skills and maybe learning a few new techniques, it is also important to be able to evaluate and recognize your own skills and information seeking behavior. This self-awareness will help you to recognize skills gaps and to plan your own development.
In ITC we talk about scholarly information. According to the Cambridge Dictionary a scholar is a person who studies a subject in great detail, especially at a university.
Scholarly communication can be defined as a term that describes the process of academics, scholars and researchers sharing and publishing their research findings so that they are available to the wider academic community (such as a university) and beyond.
In Wikipedia a broader definition can be found: "scholarly communication is the creation, transformation, dissemination and preservation of knowledge related to teaching, research and scholarly endeavors. Among the many scholarly communications issues include author rights, the economics of scholarly resources, new models of publishing including open access, institutional repositories, rights and access to federally funded research, and preservation of intellectual assets".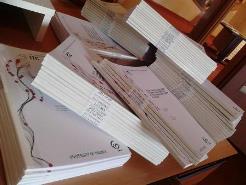 During the thesis proposal stage, the MSc student's main information need is to find relevant and accurate information on the research topic, and then to relate these in a literature review. So the MSc student must be aware and know how to access, evaluate and use information.