The physical library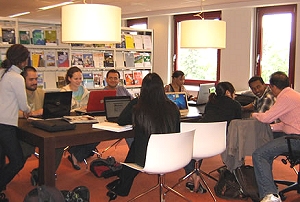 ITC Library is a scientific library for geosciences with special reference to remote sensing. You can find the most important scientific books, journals and databases in these fields from the ITC digital or physical library. ITC Library has one location.
The ITC library is open to all staff and students. Borrowing books is free of charge.
Use of the physical library
The Library is located at the third Floor (3-036) in the beautiful constructed building (organic architecture) at the following address:
Hengelosestraat 99, 7514 AE Enschede, The Netherlands.
The postal address is: P.O. Box 217, 7500 AE Enschede, The Netherlands
The library can be visited during the following opening hours:
| | |
| --- | --- |
| Monday | 08.30 – 18.00 |
| Tuesday | 08.30 – 18.00 |
| Wednesday | 08.30 – 18.00 |
| Thursday | 08.30 – 18.00 |
| Friday | 08.30 – 18.00 |
First time users need to activate their account at the information desk in the library. The ITC smart card is needed to borrow books and to extend loan periods. Reservations can be made online. The standard loan period for all materials is 3 weeks and 20 items can be borrowed at one time.
All the books needed (mandatory books) to follow lectures are available form the ITC library: one or two copies for borrowing and one or two copies for reference.
Publications needed, but not available in the ITC Library can be acquired via Inter Library Loan (ILL)  system. There is a form for Interlibrary Loan Requests on the website.
The ITC Library offers a collection of language courses for staff and students who want to improve their level of English (also other language courses are available; from Dutch to Arabic). In the audio room (within the library) a television-DVD player combination is available for viewing DVD's etc.