Geobase
GEOBASE is a multidisciplinary database supplying bibliographic information and abstracts for the geosciences and all kind of related disciplines: Earth sciences, ecology, geology, human and physical geography, environmental sciences, oceanography, geomechanics, alternative energy sources, pollution, waste management and nature conservation.
Geobase covers journal articles, books, conference proceedings, reports and monographs related to the subjects.
Coverage is from 1980 to present and 200,000 new records are added annually. It contains over 2,200 peer-reviewed journals, trade publications, book series, and conference proceedings and 2.8 million abstract records from over 60 countries. Some articles are full text available and from others only the metadata.
Geobase is offered via the platform Engineering Village. It is a Web-based information service
Engineering Village offers three ways to search Geobase: Easy Search, Quick Search and Expert Search.
Click here for a product tour or watch the video: Getting started with Geobase
The Quick reference guide is available online
When to use
If you need to search for information in a field covered by this database (see description) you should use this database.
Engineering Village offers three ways to search Geobase: Thesaurus Search, Quick Search, Expert Search
Thesaurus Search
Thesaurus Search is designed for very simple basic keyword searching. Search terms are entered into a single search box. Thesaurus Search searches Geobase without limits applied.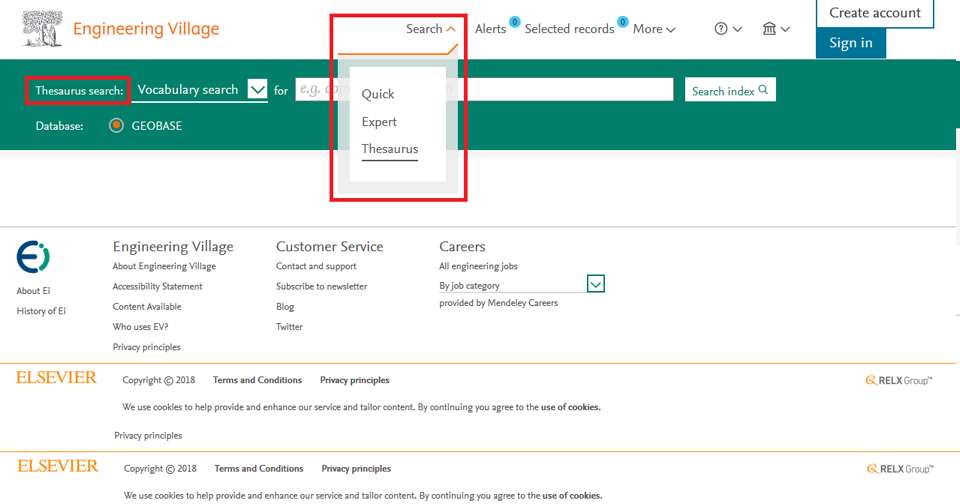 Quick Search
Quick Search is designed for quick, straightforward searches. The interface allows you to search on a variety of fields from pull-down menus. Limits can be applied to restrict searches.
Enter search terms in one or more of the three "Search For" search boxes. You may search in a specific field by selecting the field from the "Search In" pull-down menu to the right of the search box. See the help sections for a description of the search fields available.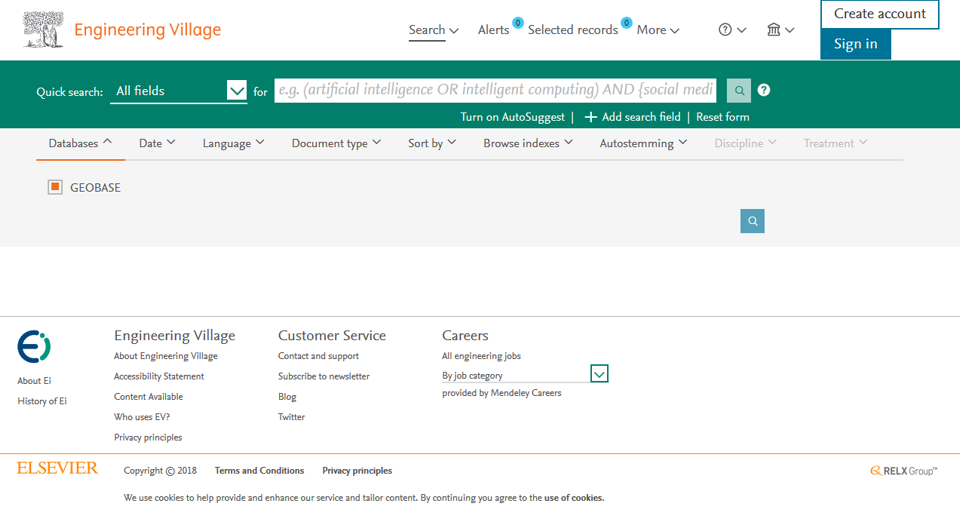 Expert Search
Expert Search provides more power and flexibility. It incorporates advanced Boolean logic and includes more search options than Quick Search.
A single search box is provided in Expert Search. To execute a search within a specific field, use the "within" command, WN, and a field code. Field codes for each database are displayed below the search box.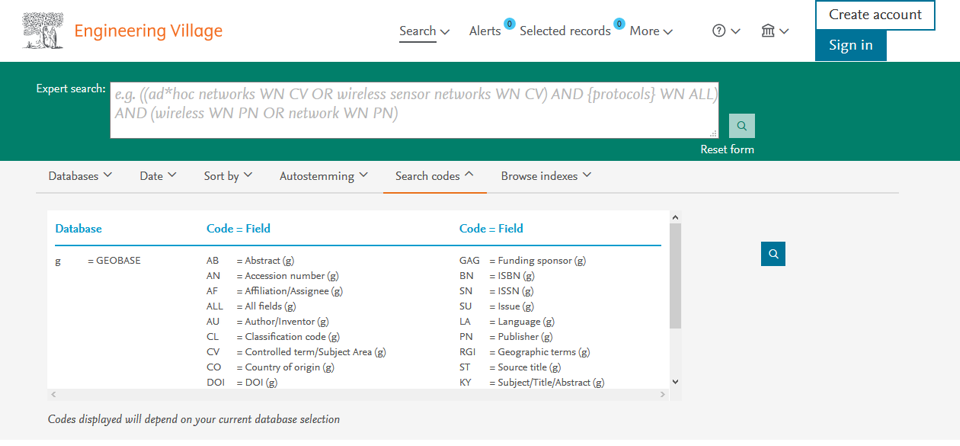 Conditions of use of the electronic journals and databases
The use of electronic journals and databases is subject to the following agreements between ITC and publishers:
The use is limited to staff and students of the ITC and visitors to the ITC Library.
Only personal use for study, research and education is allowed; commercial use is strictly prohibited.
Downloading is restricted to reasonable amounts for your personal use.
Downloaded materials cannot be distributed to third parties.
Once you are logged on, you are personally responsible for all on-line activities in that session, including library access.
If you have any questions about the license agreement, or if you need services that appear to fall outside the agreement, please contact the librarian, Marga Koelen, ext. 202.