What's new in ILWIS 3.2?
Spatial Multiple Criteria Evaluation (SMCE)
This application assists and guides a user in doing Multi-Criteria Evaluation (MCE) in a spatial way, using raster maps of a certain area as criteria. A user can build his own criteria tree, can standardize and weigh the groups, factors and constraints, and can compare various alternatives.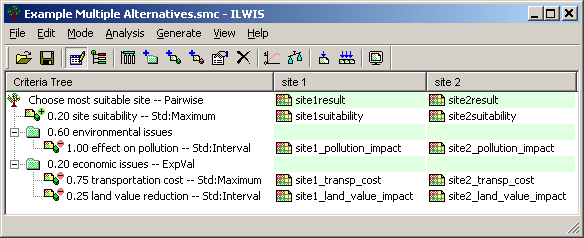 Hydrologic Flow Operations
New Hydrologic Flow operations are implemented: Fill sinks, DEM optimization, Flow direction and Flow accumulation.
The Fill sinks operations removes local depressions from a Digital Elevation Model.
The DEM optimization operation enables you to 'burn' existing drainage features into a Digital Elevation Model.
The Flow direction operation determines into which neighbouring pixel any water in a central pixel will flow.
The Flow accumulation operation determines the number of pixels that naturally drain into outlet pixels; the operation can be used to find the drainage pattern of a terrain.
Find Datum Parameters Wizard
With this wizard, you can find geodetic datum transformation parameters between the coordinate systems of two point maps. The coordinate system of the first point map is supposed to use a local (unknown) geodetic datum, and the coordinate system of the second point map is supposed to use a global geodetic datum (preferably WGS 84).
GARtrip import
Map Import allows the import of GARtrip Text files with GPS data. GARtrip is PC shareware software for Garmin and Magellan GPS receivers.
Progress Manager
The progress manager lists all actions, calculations and operations that are currently performed by ILWIS and which will take some time. It shows the progress of each of these background processes.