How sustainable are proposed development actions?
Ad hoc and often uncontrolled development initiatives can have undesired social, economic and ecological consequences. Rapid population growth, pollution, climate change, the exposure to hazards and disasters, and the loss of biodiversity and ecosystem services require effective assessment tools to assist sustainable planning and decision making.
Environmental impact assessment (EIA) and Strategic environmental assessment (SEA) are basically procedures to support this process. EIA is a legalized procedure established to evaluate the impacts of proposed projects. Although by now EIA is acknowledged and legally embedded in most countries, practice has shown that EIA often occurs too late in the planning process. Since the nineties SEA for policies, plans and programmes evolved.
The key principles of SEA and EIA are the involvement of relevant stakeholders, a transparent and adaptive planning process, consideration of alternatives, and using the best possible information for decision and policymaking. EIA and SEA therefore improve both the (spatial) planning process and the information used in this process.
For the effective implementation of EIA and SEA a wide variety of tools exists, such as social impact assessment, cost-benefit analysis, health impact assessment, life cycle analysis, multiple criteria analysis, but also tools specifically aimed to solve spatial decision problems. In this course, you will explore how GIS, models and spatial decision support (SDS) tools can be used to help to identify and structure the problem(s), to find and compare possible solutions, and to monitor and evaluate the proposed activities. 

In many environmental assessments a wide range of environmental effects and indicators have to be considered, requiring the management and analysis of a large amount of information and data, both spatial and non-spatial. GIS is one of the techniques to visually illustrate the implications of (spatial) decisions. GIS can be an effective information and communication instrument. GIS can be applied in all EIA and SEA stages: from the acquisition, storage and display of thematic information, to impact prediction, evaluation, and finally, presentation. 
Moreover, most environmental assessments involve several alternative options and numerous stakeholders with different views and perceptions. An extensive and often qualitative assessment of alternative options and possible variants is carried out. The aim is to justify the choice of one or only a few 'preferred' alternatives and then carry out the EIA or SEA on those selected. Such an approach may easily overlook alternatives, which could be much more suitable, socio-economically and ecologically.
The application of SDS tools and particularly spatial multi criteria evaluation (SMCE) makes it possible to design and locate alternatives for a proposed activity as part of an environmental vulnerability assessment procedure, using a wide range of environmental and sustainability criteria. In such an approach highly vulnerable and risky areas can be avoided and the positive aspects of the proposed development enhanced.
Another positive effect of such an interactive modelling process is that stakeholders can actively be involved in the planning and decision-making process. 
An important advantage of such spatial decision support tools in EIA and SEA studies is the ease with which valuation criteria can be changed to visually illustrate the implications of spatial decisions.
This course provides a unique opportunity to integrate a multidisciplinary assessment of spatial policies, plans and projects. Hands-on experience with real EIA and SEA projects will be a major part of the course.
For whom is the course relevant?


Although participants may have diverse backgrounds, you should share practical experience of, or have an affinity with, the application of EIA and SEA within a spatial planning context. You may be a professional involved in development planning, or working in a governmental or non-governmental organization. You can be a practitioner, reviewer, consultant, expert, a student or professional working in the field of environment.
What is the course content?
The course approach involves task-based learning that blends theory and practice, and exists of the following topics:
EIA and SEA: concepts, principles, process 
SEA: concepts and interaction with the planning process
Scoping: key elements & plan objectives, key issues, SEA objectives, and alternatives
Environmental assessment methods (with a focus on GIS & SDS tools)
Assessment: baseline information, impact prediction, mitigation, and comparison of alternatives
Spatial decision support (SDS) tools
Review, decision-making, and monitoring
Teaching consists of interactive presentations, video presentations, practical exercises, individual assignments and self-study.
The UT-ITC learning platform used in the course is Canvas, in which all materials will be made available.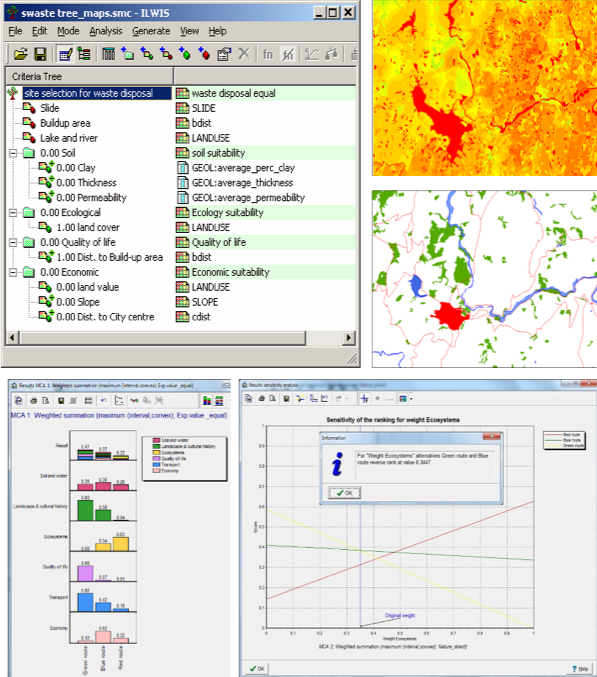 What will be achieved?
On the completion of the interactive lecture series and the associated practical exercises and assignments, you should be able to: 
Explain the basic principles, procedures, and steps in EIA & SEA and their integration in the planning process
Value environmental assessment methods
Explain how GIS can be used in EA
Apply spatial decision support tools to define, analyze and assess alternatives
Evaluate the use of GIS and spatial decision support tools in EA
Each topic will have its own specific objectives and activities. A detailed description of each topic and related exercises is given in each topic section.
Admission requirements
Academic level and background
Applicants for an online course should have a Bachelor degree or equivalent from a recognised university in a discipline related to the course, preferably combined with working experience in a relevant field.
Documentation
The faculty accepts transcripts, degrees and diplomas in the following languages: Dutch, English, German, French and Spanish. It is at the discretion of the faculty to require additional English translations of all documents in other languages as well.
Language skills
Success in your studies requires a high level of English proficiency. Therefore, prospective students with an international (other than Dutch) degree must meet the English language requirement. As proof that you meet this requirement, you will be asked in the application procedure to upload one of the requested language certificates:
Only these internationally recognised test results are accepted. Without a valid certificate, we cannot process your application.  
Other requirements
Ensure you have obtained a valid English test result before the application deadline. If your application is accompanied by a language test score report with a test date after our application deadline, we will not process it. Therefore, make sure to do the test in advance, as it will take time for you to get the official certificate.
When applying for a scholarship, the language requirements may be different because scholarship providers may have different requirements.
If you have studied in a former British or American colony, you must take one of the internationally recognised English language tests.
Exemptions
You are exempted from the English language requirement if you hold:
a relevant bachelor's degree from an accredited academic institution in the Netherlands
if you are a national of one of the countries in this list (PDF)
a three-year bachelor's degree in Australia, Canada (English-speaking part), Ireland, New Zealand, UK or USA. When your awarding institution is in one of these countries, but your teaching institution was not, you are not exempted. The same rule applies to distance (online) education.
Computer skills
To follow online education you must have basic computer experience, regular access to internet, and e-mail. For some courses, additional computer skills are required (see description of specific course).
Technical requirements online education and assessment
For online education, we formulated guidelines to guarantee optimal performance. For online oral exams and proctoring during online assessments, the webcam and headset requirements need to be met.
GIS and remote sensing
Most online courses, except for the introductory course, require knowledge of, and skills in, working with GIS and/or digital image processing of remotely sensed data.
Candidates are asked to provide proof of identity during the registration process.
Hardware and software requirements
For practical exercises use will be made of open or free source software as much as possible. 
For the application of basic GIS and SMCE the open-source software ILWIS 3.8 will be used.
DEFINITE (student version) will be used when you do a practical exercise on multi-criteria analysis (MCA). 
Data for the exercises will be made available in canvas under the related topic.
About your diploma
Upon successful completion of this course you will receive a Certificate which will include the name of the course.
Along with your Certificate you will receive a Course Record providing all the subjects studied as part of the course. It states: the course code, subject, ECTS credits, exam date, location and the mark awarded.
If you decide to follow a full Postgraduate or Master's course at ITC, and after approval of the Examination Board, you will be exempted from the course(s) you followed successfully as an online course.
Key information