Modern geo-information processing organizations aim to excel in domains ranging from spatial data capture through surveying and remote sensing, handling and analyzing in a GIS to geo-visualization on paper and interactive websites. Owing to the rising demand for geo-information products, these organizations must work professionally and efficiently to satisfy client demands. Consequently, the requirement for staff to have a proper understanding of the entire geo-information production line is of growing significance.
This course provides the basic theoretical knowledge and hands-on experience required to perceive the synergy within this multidisciplinary production environment. It will foster improved mutual understanding, collaboration, and the effective exchange of geo-information between the different domains in the organization, leading to higher-quality output.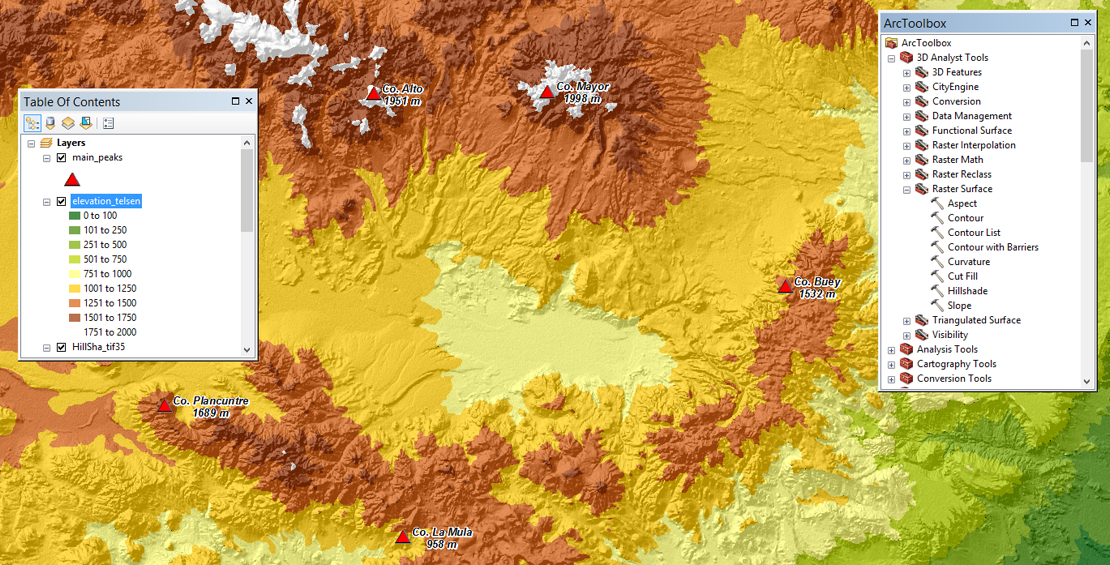 For whom
This course is designed for staff of geo-information production organizations and businesses working in the domains of geo-data acquisition, handling, analyzing and/or visualization, and recognizing the need for a wider understanding and awareness of the entire geo-information production line to improve efficiency and productivity.
It also prepares staff and researchers working in non-geo disciplines to make use of geospatial data for information extraction enriching their domain knowledge and project outcomes.
Course content
This course is taught in four modules of three weeks each. The first module deals with geo-data acquisition using state-of-the-art methods and results in properly geo-referenced and optimized images for further processing. The second module is about principles of Geographic Information Systems (GIS) and its capabilities as a problem-solving tool. Basic understanding of cartographic design and visualization based on user requirements is introduced in the third module. The final module offers a choice to either deepen the knowledge in photogrammetry and remote sensing or GIS and visualization.
After successful completion of this course, participants are encouraged to further develop their knowledge and skills by following the advanced courses: Remote Sensing and Digital Image Processing or GIS and Geo-visualization.
What will be achieved?
Upon completion of the course, participants will be able to: 
Execute basic processes of the main methods of geospatial data acquisition and identify their role in geo-information production and mapping. 
Describe the characteristics of the main types of EO sensors, especially based on the four sensor characteristics.
Understand the relevance and actual use of reference surfaces, coordinate systems, and transformations for mapping. 
Describe the main methods to process digital RS images for information extraction. 
Recognize the main components of a GIS and demonstrate how a GIS can be used to solve real-world problems.
Build relational databases and perform basic queries.
Apply basic GIS operations and spatial analysis on vector and raster data with provided software packages.
Apply the main phases of GIS-based map production, including data visualization, map design and dissemination.  
After following module 4 on the Remote Sensing and Digital Image Processing stream, participants will be able to:
Interpret the mechanisms of interaction between electromagnetic radiation, the atmosphere, and earth objects, which are relevant for Earth Observation.
Apply image orientation with a focus on aerial photography.
Apply pixel-based digital image classification techniques on EO data
Apply the fundamental visualization principals
Explain point cloud acquisition techniques, properties, applications, and apply basic processing methods.
After following module 4 on the GIS and Visualization stream, participants will be able to:
Explain the basics of measuring data quality
Design workflows for mapping and models for geoprocessing
Decide on suitable representation and labeling methods for different map types
About your diploma
Upon successful completion of this course, you will receive a Certificate which will include the name of the course. 

Along with your Certificate you will receive a Course Record providing the name, and if applicable, all the subjects studied as part of the course. It states: the course code, subject, exam date, location and the mark awarded.
Admission requirements
Academic level and background
Applicants for this certificate course should have completed their secondary education in a discipline related to the course specialization and have at least three years of relevant practical experience.
Documentation
The faculty accepts transcripts, degrees and diplomas in the following languages: Dutch, English, German, French and Spanish. It is at the discretion of the faculty to require additional English translations of all documents in other languages as well.
English language
As all courses are given in English, proficiency in the English language is a prerequisite.
If you are a national of one of the countries in this list (PDF), you are exempted from an English language test.
Please note: the requirements when applying for fellowships may vary according to the regulations of the fellowship provider.
English language tests: minimum requirements
Only internationally recognized test results are accepted.
| | |
| --- | --- |
| TOEFL Paper-based Test (PBT) | 500 |
| TOEFL Internet-based Test | 61 |
| British Council / IELTS | 5.5 |
| Cambridge | C2 Proficiency / C1 Advanced |
Computer skills
If you lack computer experience we strongly advise you to follow basic courses in your home country.
Key information