This course focuses on the process of designing and building a web application for geodata visualization and dissemination from a spatial problem-solving perspective using open-source GIS tools.
At the start of the course, you will be presented with a web application that has been developed in response to a particular geospatial challenge. Throughout the course, you will learn the theoretical concepts and practical skills that are necessary to be able to recreate this application by yourself! 
From scratch, step-by-step, you will rebuild the app while learning core notions and state of the art techniques for spatial data management, analysis, and visualization, basic programming skills for geo-problem solving, as well as hands-on training for setting-up of a geodatabase and embedding geo-products in web-based services using open-source GIS tools. 
The course revolves around a didactic case study on food security in Burundi, East Africa. You will learn how to build a geospatial web application that serves to better understand producers' accessibility to food markets in that country. At the end of the course, you will reflect on possible ways to adapt the tool to tackle a real local problem in your country.  
This course builds on the foundations of GIS and Geovisualization knowledge acquired in the short course: Introduction to GeoInformatics and prepares the participant to think innovative in solving GIS related problems.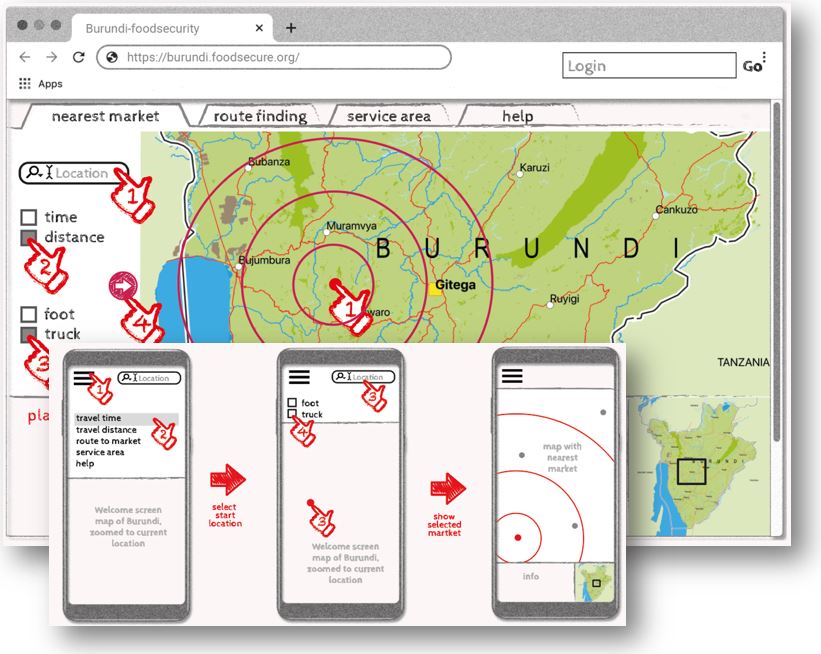 For whom is the course relevant?
This course aims at staff from governmental organizations and private companies who are specialized in the field of geographic information and web map-oriented production using GIS. An important goal of this course is to train participants to solve spatial problems independently, preparing them to take on supervisory tasks in the domain of GIS and geo-visualization. Furthermore, the course provides excellent opportunities for participants to broaden, deepen and update their knowledge, techniques and perspectives within the geo-visualization production environment.
What is the course content?
The course is structured in 5 thematic learning units that are taught simultaneously in 4 sequential modules of 3 weeks each. Learning outcomes are defined per unit and evaluated progressively at the end of each module.
What will be achieved?
Upon completion of the course, you will be able to: 
Translate use and user specifications into a basic web-app design
Build and query a spatial database according to specific requirements and data
Explain and apply raster- and vector-based spatial analysis operations with a moderate level of complexity
Select appropriate visualization techniques for data exploration and dissemination
Explain the basic elements of programming languages and infer their potential in a GIS context
Build simple programs using python;
Build simple web applications using JavaScript;
Select proper symbolization to develop a basic graphic interface
Construct an elementary web page using HTML and CSS
Explain the process to design a Web mapping application.
Experiment with geo-Web services/web map applications in a browser;
Explain how geo-Web services/web map application work on a server;
Make use of web standards to display and visualize geodata
Utilize Style Sheets to style dynamic maps
Develop a basic functional web interface using HTML, CSS and JavaScript
About your diploma
Upon successful completion of this course, you will receive a Certificate which will include the name of the course. 

Along with your Certificate you will receive a Course Record providing the name, and if applicable, all the subjects studied as part of the course. It states: the course code, subject, exam date, location and the mark awarded.
Admission requirements
Academic level and background
Applicants for this certificate course should have completed their secondary education in a discipline related to the course specialization and have at least three years of relevant practical experience.
Documentation
The faculty accepts transcripts, degrees and diplomas in the following languages: Dutch, English, German, French and Spanish. It is at the discretion of the faculty to require additional English translations of all documents in other languages as well.
English language
As all courses are given in English, proficiency in the English language is a prerequisite.
If you are a national of one of the countries in this list (PDF), you are exempted from an English language test.
Please note: the requirements when applying for fellowships may vary according to the regulations of the fellowship provider.
English language tests: minimum requirements
Only internationally recognized test results are accepted.
| | |
| --- | --- |
| TOEFL Paper-based Test (PBT) | 500 |
| TOEFL Internet-based Test | 61 |
| British Council / IELTS | 5.5 |
| Cambridge | C2 Proficiency / C1 Advanced |
Computer skills
If you lack computer experience we strongly advise you to follow basic courses in your home country.
Key information