In the latest edition of the Keuzegids Masters, ITC's master programme Geo-information Science & Earth Observation was given the quality seal 'top rated programme' for the third time in a row. A great recognition for our efforts.
De Keuzegids compliments the organization of the educational programme, with ITC being open and clear about requirements and rules. Also, facilities as the library and other study rooms are rated highly.
HOW WE RATED
In the Keuzegids, programmes are awarded scores between 20 and 100, and if they score 76 or more, they are awarded the designation 'top rated programmes'. The Geo-information Science & Earth Observation programme received a rating of 82, six more than last year. It is the highest score of all master courses of the University of Twente. Besides the ITC master, Applied Physics, Chemical Engineering, Sustainable Energy Technology and Technical Medicine are all 'top rated programme'.
ABOUT THE KEUZEGIDS MASTERS
The Keuzegids Masters gives prospective master's students an overview of the quality of the different master's programmes in the Netherlands, as it considers all officially registered university and university of applied sciences master's programmes. After the programmes have been categorized in different disciplines, they are compared with regard to content. In most master's programmes, a quality assessment is also given based on student judgements in the National Student Survey (NSE) and the assessment of the Accreditation Organization of the Netherlands and Flanders (NVAO).
CELEBRATION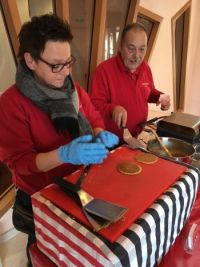 The third seal in a row is worth a celebration. Yesterday, ITC presented a treat for all at the ITC building, with a syrup waffle stand being present in the hall all afternoon, offering freshly baked stroopwafels. During the Graduation Ceremonies next week, University of Twente's Rector Magnificus Thom Palstra will be present to congratulate the faculty.