On Friday 17 December ITC celebrated its 60th Dies Natalis. After some words of welcome the Dean of the ITC Faculty, Tom Veldkamp, delivered his DIES speech entitled Exploring ITC's future. An exploration in which he introduced a new way of thinking towards a more business-like approach for capacity building, supporting ITC's mission.
The former Minister for Development Cooperation, Prof. Jan Pronk was invited to give the keynote lecture (as he did exact 35 years ago, on 17 December 1975, when he addressed ITC at its 25th Anniversary). In his speech entitled "Dr Watson's Oversight"  he elaborated on the differences in challenges and objectives of 60 years ago versus those of today. The main message of his address in 1975 to ITC was: please help directing technological innovation to the benefit of those who are poor and do not yet have a voice. In 2010 these two categories may consist of different people; but the mandate is the same.  He also mentioned that ITC, no longer functioning as a separate institute, but as faculty of a university with an ambition and pretension of a real academy, can benefit from the insights of many different disciplines and, in turn, enrich them.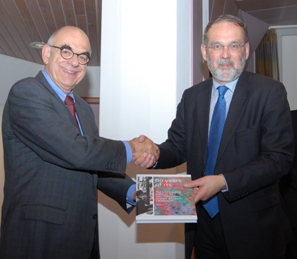 After Prof. Pronk's speech, the ITC students from Rwanda very successfully performed the Kinyarwanda dance, which they had also performed at the yearly International Evening, held in November. 
Boudewijn de Smeth was reminiscing about the ITC Delft building, inaugurated in 1956 and demolished in November 2010. He mentioned that the 20 wooden bas-reliefs, made by Charles Hammes and part of the façade of the Delft building , are saved and are being restored. One of the restored panels was unvealed during the Dies ceremony. Eventually, all panels will be given a place in- or outside the ITC building.
Martien Molenaar reminded the audience of the fact that as of 1 January 2010, ITC became part of the University of Twente. This was a rational decision; however, there has been also a strong emotional side to such a decision. ITC came to the end of a period of 60 years as a unique institute. This period started with a pioneering phase followed by a continuous struggle to redefine and maintain a role in the context of development cooperation and capacity development in a fast developing professional and academic field. As a result of these considerations, the ITC Foundation initiated the writing of a book about the first 60 years of ITC, seen from three perspectives:
The fast developments in the professional and academic domain of ITC
The ever evolving concepts for development cooperation
The internationalization of higher education.
This book, entitled "60 years of ITC" was officially presented by Prof. Jaap Besemer, chairman of the ITC Foundation, to Prof. Ed Brinksma, Rector Magnificus of the University of Twente, Prof. Tom Veldkamp, Dean of the ITC faculty and Ms Erna Leurink, Managing Director of the ITC faculty.
Following the book presentation, emeritus Prof. Herman Verstappen recalled the early days of ITC after 60 years of success. Prof. Verstappen, former professor Geomorphology, joined ITC in 1957 and served ITC for several decades. He gave the audience an impression of how ITC was in its early stages.