''Rising Water, Safer Shores'' is one of the case studies in the BREUCOM Erasmus+ project
Children are especially vulnerable to climate-change-related disasters. UNICEF already reported the effect of biological factors and the dependence on adults to survive. Besides this, the lack of knowledge on appropriate responses often leaves children helpless. In one of the case studies of the BREUCOM Erasmus+ project, together with children on Panju Island, in Mumbai, India, we conducted a workshop on flooding. 
Panju is an estuarine island with more than a few thousand inhabitants. Climate adaptation challenges are most acutely felt in the most vulnerable locations like estuarine Islands. The topography of Panju is such that it is highly susceptible to flooding as well as sea-level rise. In December 2019, a workshop with 40 children in the Municipal School on Panju Island was conducted jointly by ITC (University of Twente), Kamla Raheja Vidyanidhi Institute for Architecture and Environmental Studies (KRVIA), Mumbai and the NGO partner- Society for Promotion of Area Resource Centres (SPARC). The workshop started with the theatrical representation of a flood situation with puppets by the Master's Students (Departments of Urban Design and Urban Conversation) from KRVIA. Then, the children were divided into two groups based on whether they follow the primary (Age group: 5-9 years) or the secondary school (age group: 9 years -12 years) curriculum. The children who were in the primary school were asked to create a character and draw a disaster scene by involving the character that they created, as was done in the workshops in Italy. The children in the primary and upper-primary schools were asked to draw a map of the Island. The workshop encouraged children to express themselves through the medium of drawing regarding their perceptions of flood risk.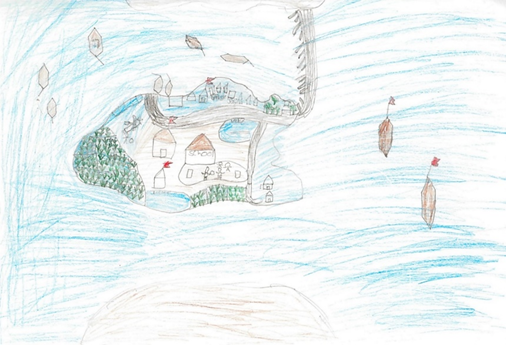 Map of the flooded Panju Island, December 2019, (a drawing of a child, during the workshop in Panju).
With the help of the 40 children's drawings, a 9-year-old team member, Vedant Menon, and the valuable help of three interns we have developed the 'rising water, safer shores' (Stijgend water, droge voeten) board game to provide children (9-11 years old) with the knowledge of what to do before, during and after a flood event. The activities proved that educational materials prepared by children for children enable learning and drawing is a universal language for children.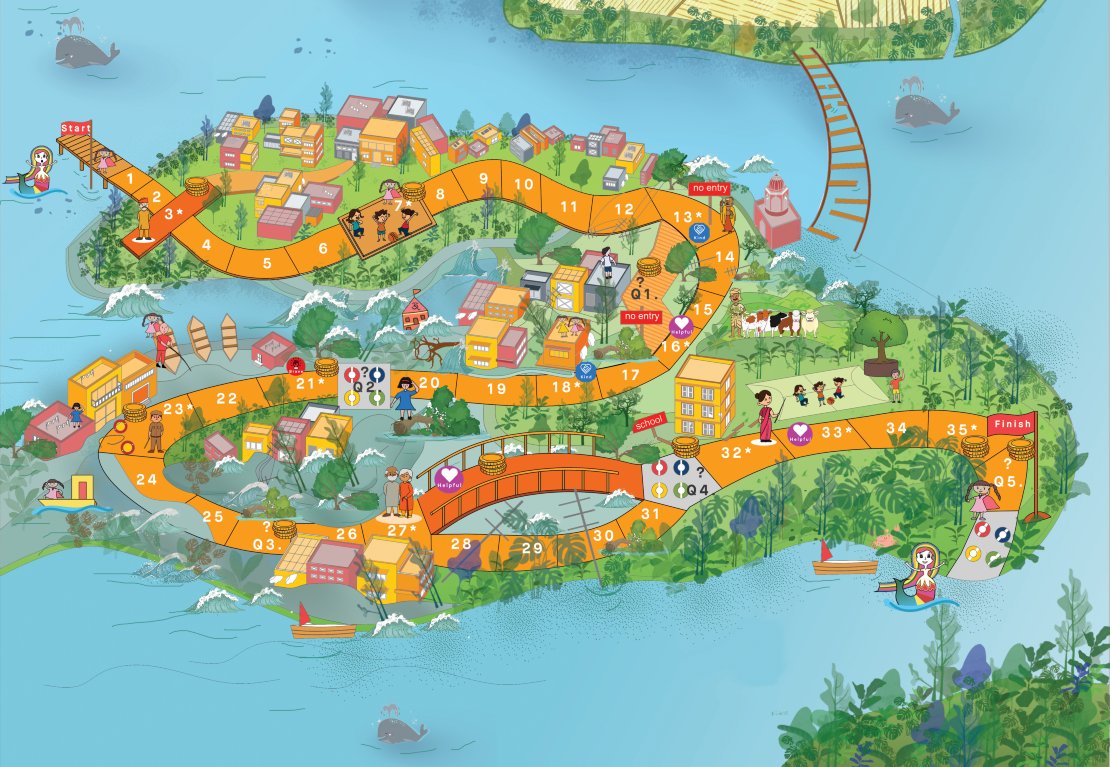 The layout of the ''Rising Water, Safer Shores'' (Stijgend Water, Droge Voeten) board game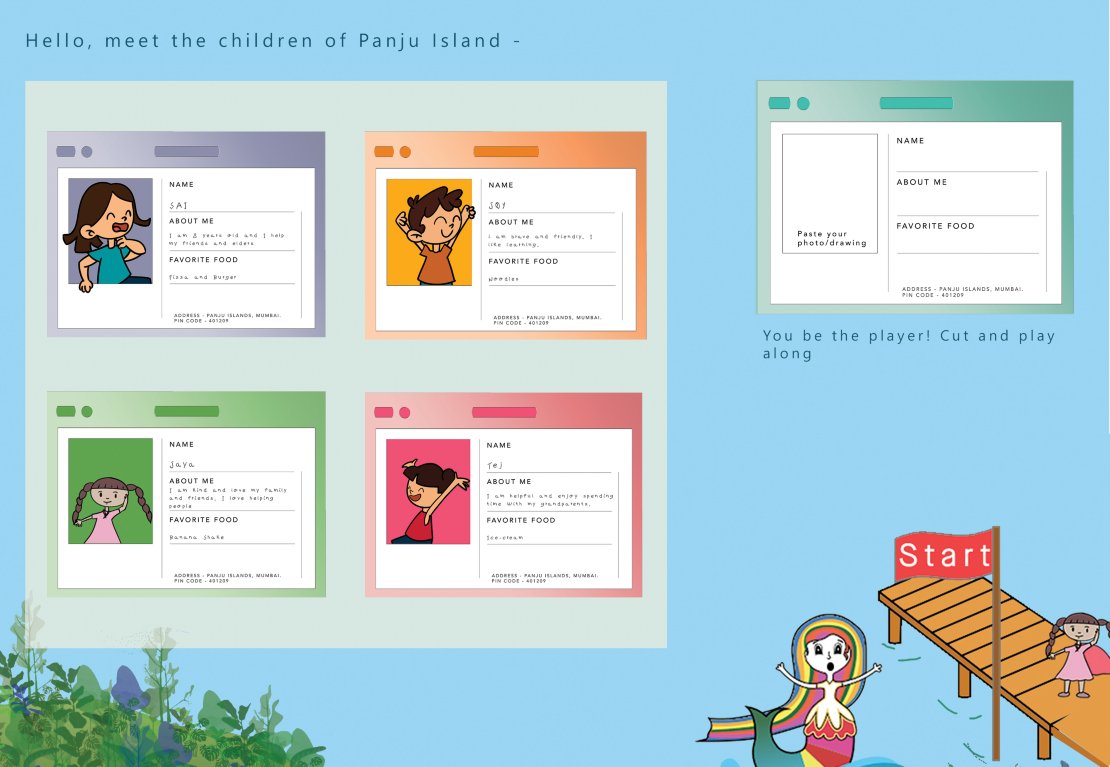 Players' ID cards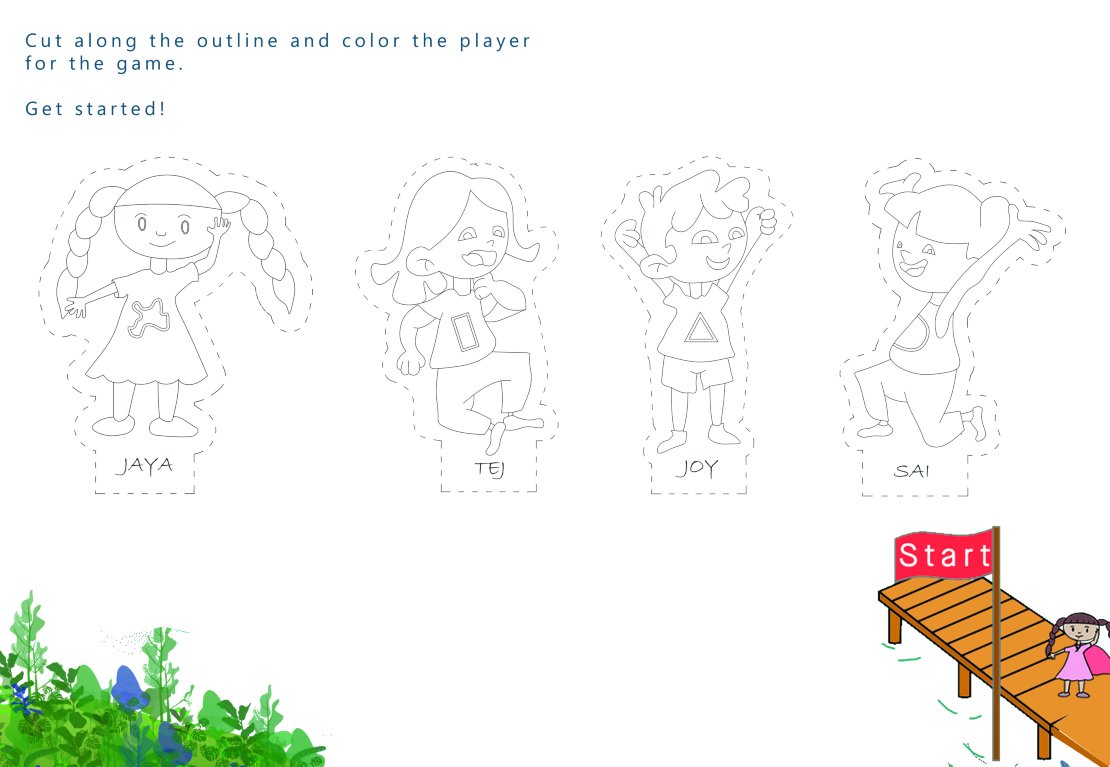 Cut-out players
Our interns: Sadichchha Shrestha, January - March 2021; Asmita Patnaik, August 2021 - present; Anubhav Borgohain, August 2021 - present
Photos from the workshop, Panju Island, December 2019
(Photo credit: F. Atun)